Dr Isabeau Walker, consultant anaesthetist at Great Ormond Street Hospital London, just returned from a visit with Chain of Hope to the Children's Heart Hospital and the Black Lion Hospital in Addis Ababa. Here is her account of the visit:
"I have just returned from a visit to the Children's Heart Hospital in Addis Ababa, Ethiopia with the charity Chain of Hope, two organizations dedicated to helping children with congenital heart disease in low-income countries.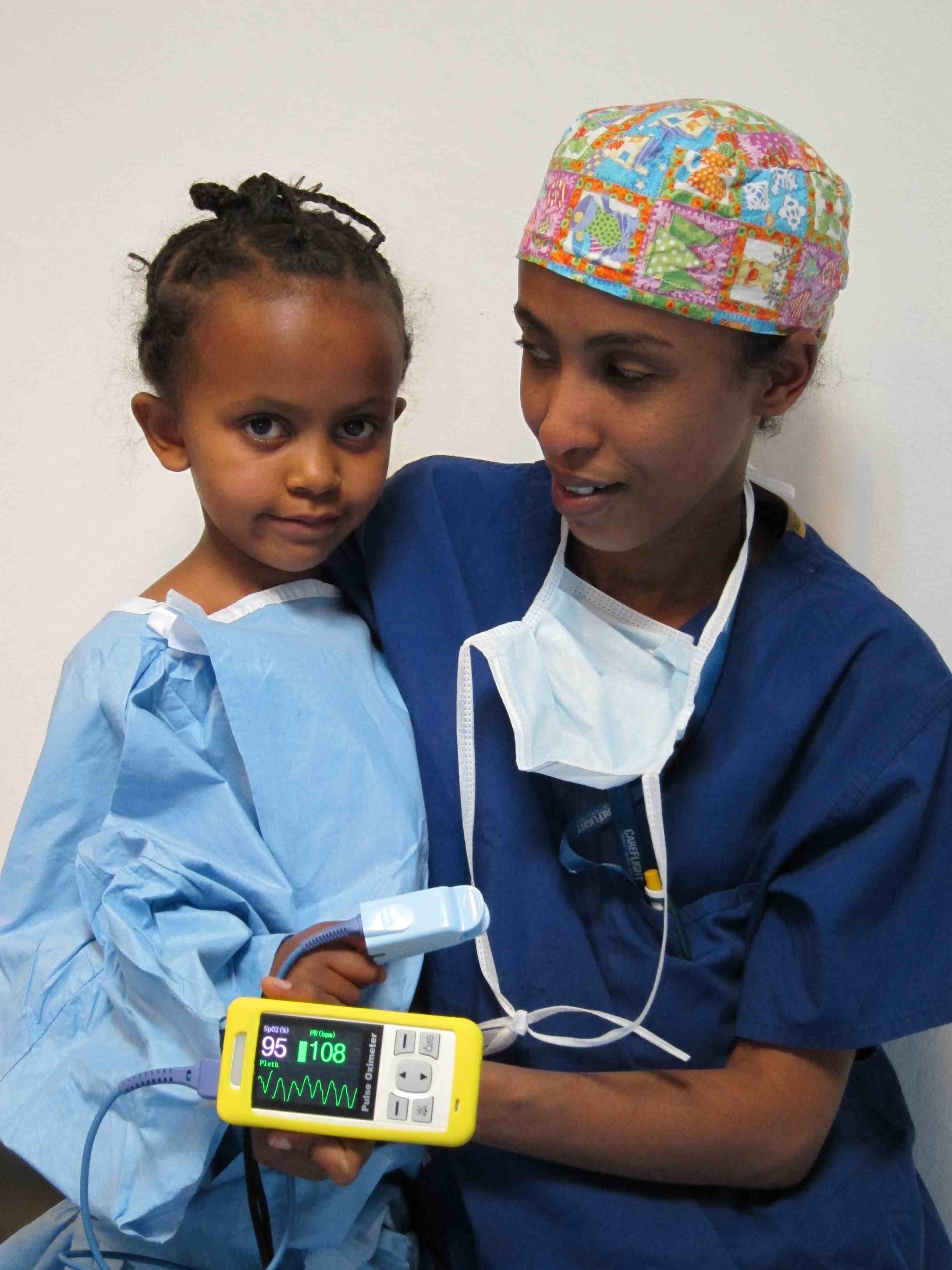 Chain of Hope has introduced the WHO Surgical Safety Checklist as a quality standard for all their missions, and we used the checklist for all our cases in Ethiopia. We used the Lifebox oximeter during pre and post operative assessments on the ward, also as our transport monitor between the OR and the ICU – we were very pleased with the monitor!
Our team had never worked together before, and the Children's Heart Hospital was new to many. We came from hospitals from around the world – Denmark, Jamaica, UK, Finland and Ethiopia. Despite this, we all shared a common language in the use of the WHO checklist, and we used this to do routine checks and structure communications so that we could offer safe care to our patients.
As an example of how important the checklist was in helping us to work as an expert team – our 12th case of the mission was 6 year-old MT who underwent reconstruction of her left pulmonary artery. Shortly after return to the ICU she was noted to be bleeding and developed cardiac tamponade. She needed to go back to theatre for emergency surgery and this was achieved rapidly and efficiently and with excellent outcome, thanks to all members of the theatre team working so well together.
During my visit I delivered an AAGBI donation of 10 Lifebox oximeters to the anaesthetists at the Black Lion Hospital (next door to the Heart Centre), and gave a presentation on the checklist to the anaesthetic department. Dr Assefu who is the head of the anaesthesia department intends to introduce the checklist into one theatre initially and thought the educational materials on the Lifebox CD would be extremely useful for this, as well as for educating the junior anaesthetists about oximeters. The AAGBI oximeters will be used in the ICU where there are presently only 2 oximeters for 6 patients.
My thanks to Dr Belay and all of his team at the Children's Heart Hospital, and all the staff at Chain of Hope for making our visit to Addis Ababa such a success."