You might know (because we told you. A couple of times. We told quite a few people) that back in February, Lifebox was in the Solomon Star, the leading newspaper of the Solomon Islands.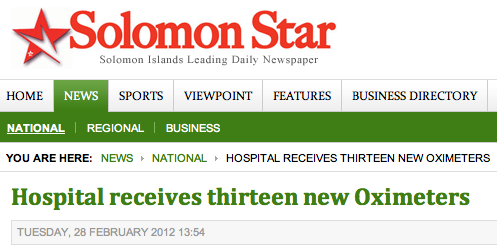 Thanks to generous donors from the Department of Anaesthesia at Christchurch Hospital in New Zealand, a physician-owned anesthetic machine company, and the Australian Society of Anaesthetists (ASA), Lifebox was able to send 13 pulse oximeters to the National Referral Hospital in Honiara, Guadalcanal.
By the by (it'll all come together!), did we mention that the best thing about the WCA was putting faces, voices, characters and handshakes to the names that once seemed so far away?
For instance, Dr Bata Anigafutu from the Solomon Islands, who was instrumental in coordinating the oximeters: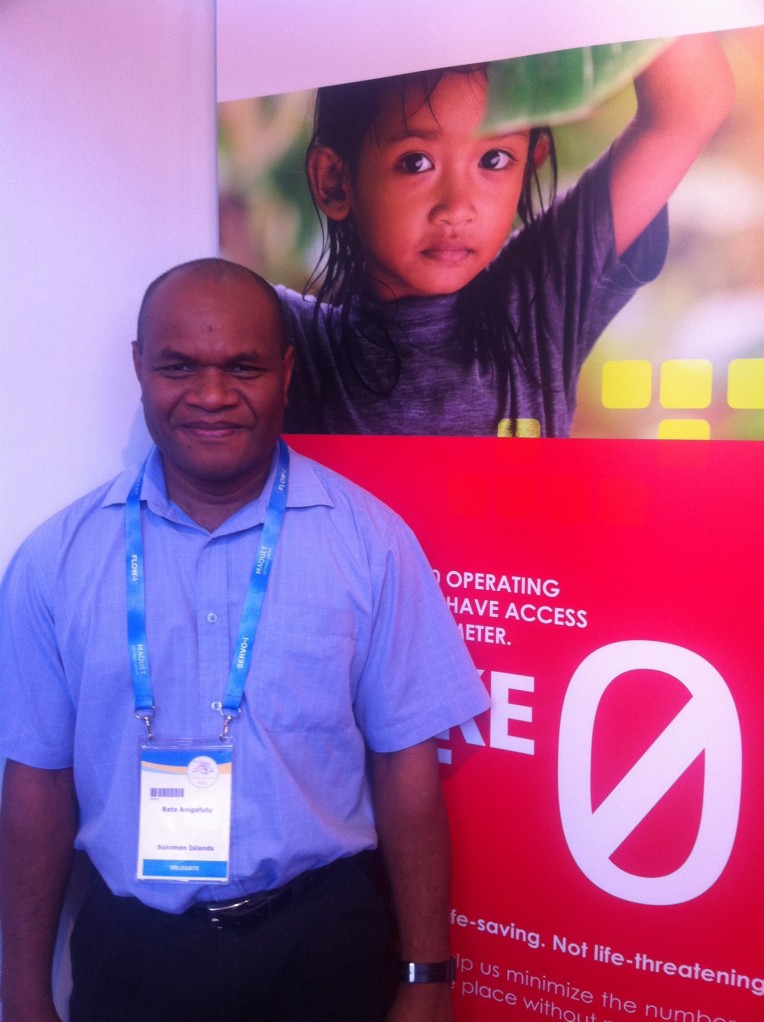 Bata originally trained as a surgeon, but the civil war of the late 1990s changed a lot of things. The anaesthetist at his hospital left because of the troubles, and, smiling wryly, Bata explained that he "was pushed to the head of the table."
He's an anaesthetist now, not a surgeon (cheers from the WCA crowd – totally biased) – one of just three qualified physician anaesthetists amongst the thousand islands, with three more in training.
The first time he really thought about the importance of pulse oximetry was during his residency in neighbouring Bougainville, Papua New Guinea.
"We had a case, a 20 year-old girl, where the nurse anaesthetist, with no pulse oximeter, did the intubation. Supposedly. Twenty minutes in to the operation, the surgeon noticed that the blood was dark. We checked the patient – it had been an oesophageal intubation [when the tube goes into the oesophagus, instead of the trachea]. It took a while to see that the patient had arrested."
The girl died. Bata remembers the horror of the case clearly – and the traumatized nurse anaesthetist, whose error had not been caught.
Pulse oximeters keep patients safely monitored, but they also protect the anaesthesia provider. In well-resourced hospitals, equipment and tools like the WHO Surgical Safety Checklist, cushion the risk that a simple mistake will go unnoticed and kill someone. In low-resource settings, the absence of safety precautions can be harrowing.
That was one day he remembered.
Another was the day the oximeters arrived. Bata first heard about the global oximetry project in 2005, and had been working towards this for some time.
The head of his department went to pick up the oximeters, he explained." We opened them. We got to appreciate [them]. There was local TV, media – people really appreciated it…"