A life-affirming measurement
So we were predisposed to like Rotary, and that's before you factor in the amazing work they've been helping us with over the last year!
As we wrote in the April issue of Rotary Today (you can read a copy here), Rotarians around the world from Yorkshire to Benin have been rolling up their sleeves to help us make surgery safer in low-resource countries.
In the last year, with their help, we've been able to supply many more pulse oximeters and training programmes to healthcare workers in low-resource settings.
Of course we know we're not the only ones who have been busy.  Last year in Harrogate we learned about the amazing global range of projects that Rotary clubs lead. So this year we followed the wheel to Birmingham, and the 89th Annual Rotary International Great Britain and Ireland (RIBI) Conference – to share our news, and catch up with members, projects and old friends!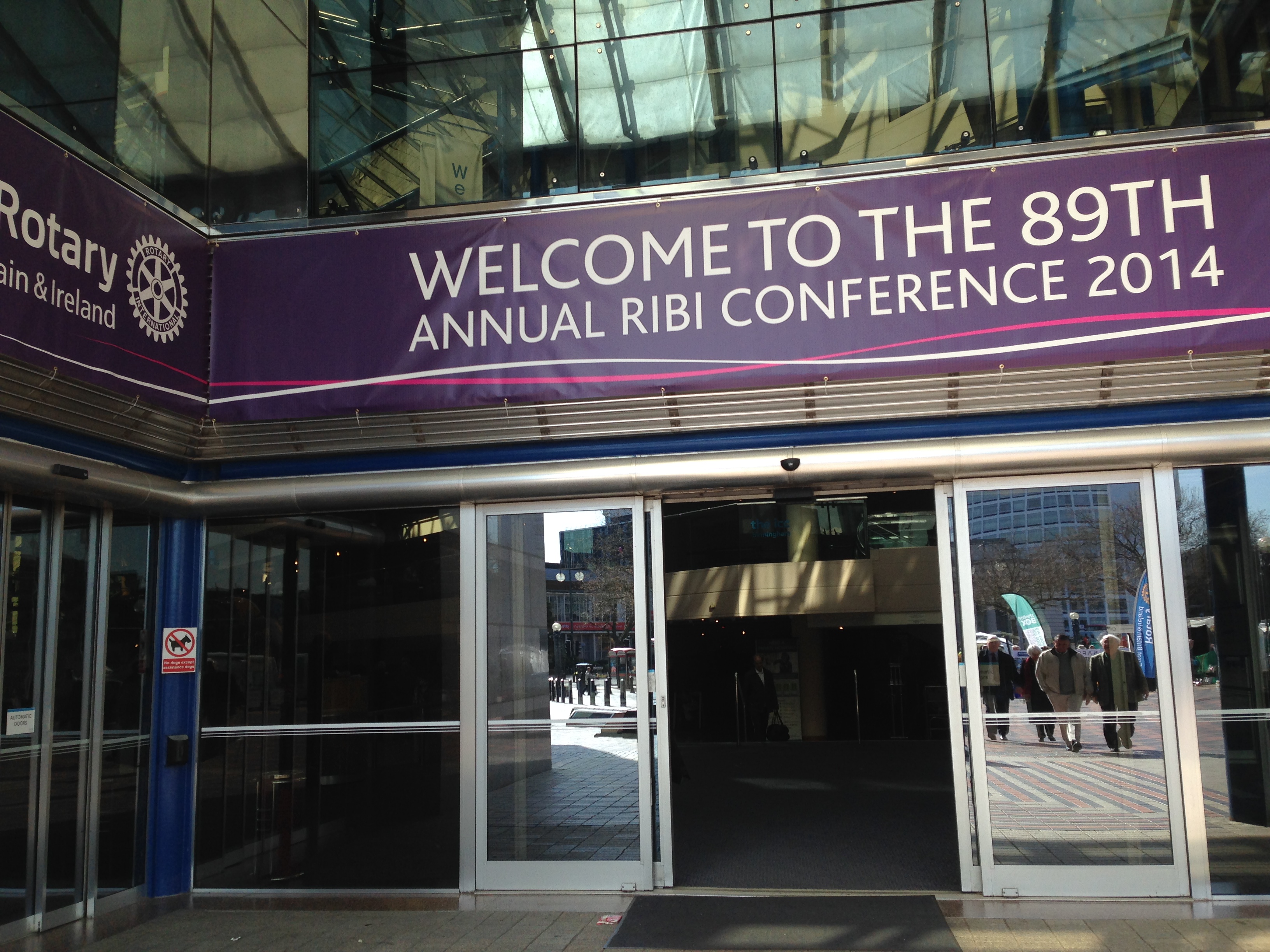 Like Dr Carl Heidelmeyer, our regular friendly face of the Rotary Club of Portishead –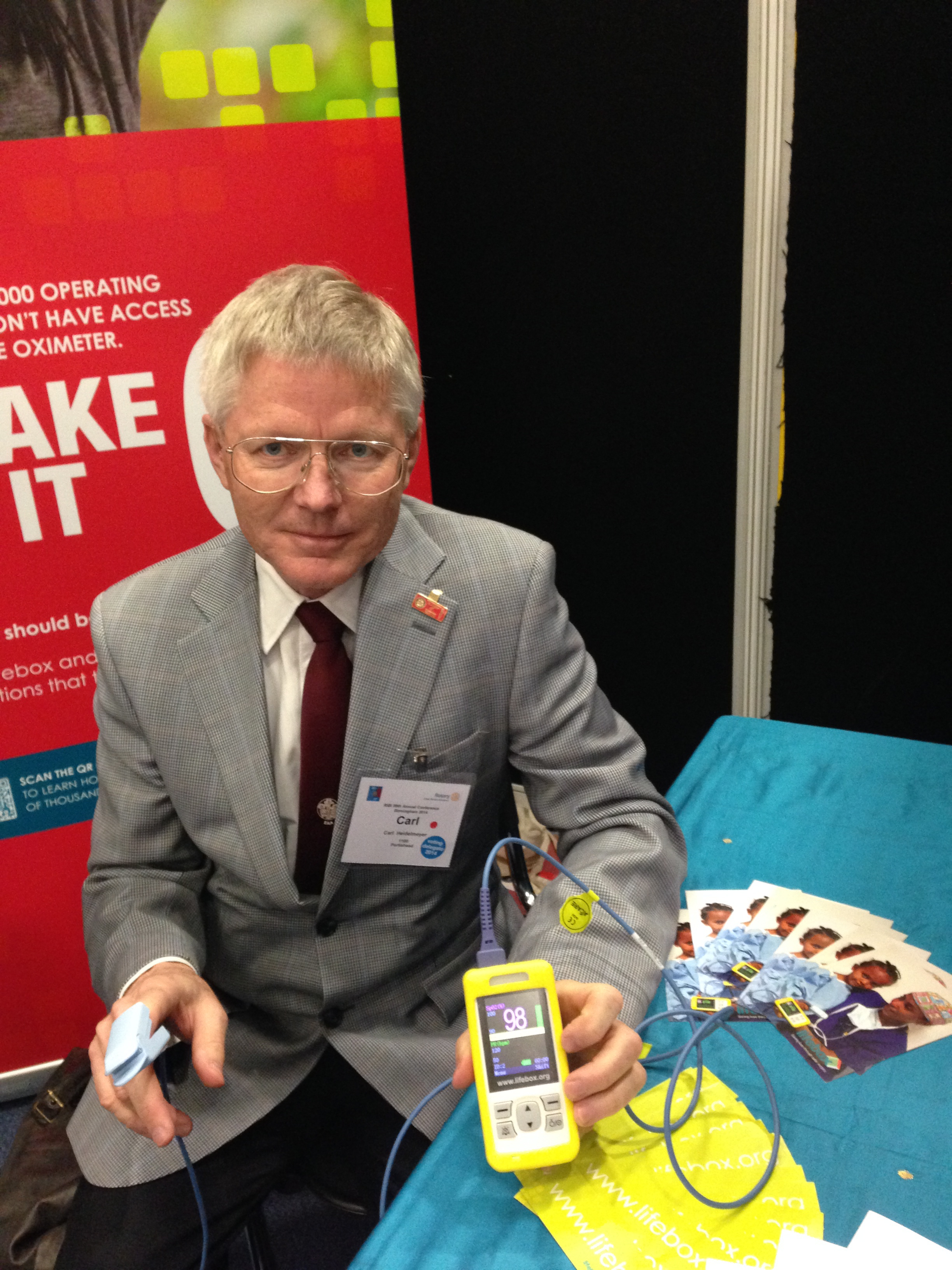 and Jane Palmer from Mercy Ships (a double meeting, with a Lifebox/Mercy Ships reunion also underway that weekend in the Congo!)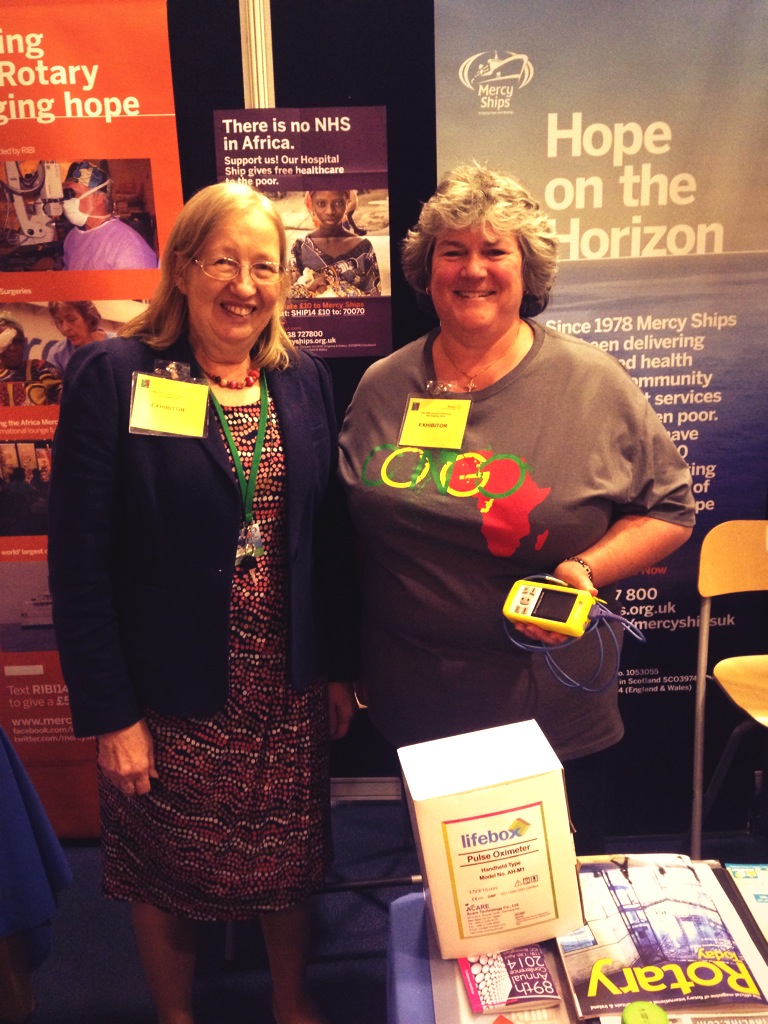 Our booth looked a little lonely at first – but they don't call it the House of Friendship for nothing…
Sure enough, we were soon joined by new friends Barbara and Lindsay Bashford, whose son Tom Bashford was a medical VSO volunteer in Ethiopia two years ago.
Is surgery in low-resource settings really so unsafe? Tom recalls a nurse asking him for advice on "how to wake up patients who have not recovered from their anaesthetic after one or two days" – patients who, he knew, would never properly 'wake up' and recover from the permanent damage they'd sustained during the operation, caused by loss of oxygen.
He worked with the surgical team at a hospital to introduce the WHO Surgical Safety Checklist, the life-saving communications tool that is a vital component of Lifebox programmes.
And later that year Barbara and Lindsay's club, the Rotary Club of Market Drayton, raised funds to send pulse oximeters to him at the hospital – ensuring that future patients would be more safely monitored.
Before they knew it, passing Rotarians were finding themselves monitored too.
Suspicious at first…
…they soon realised, as the oximeter probe clipped onto their finger and – breathless pause – began to beep reassuringly…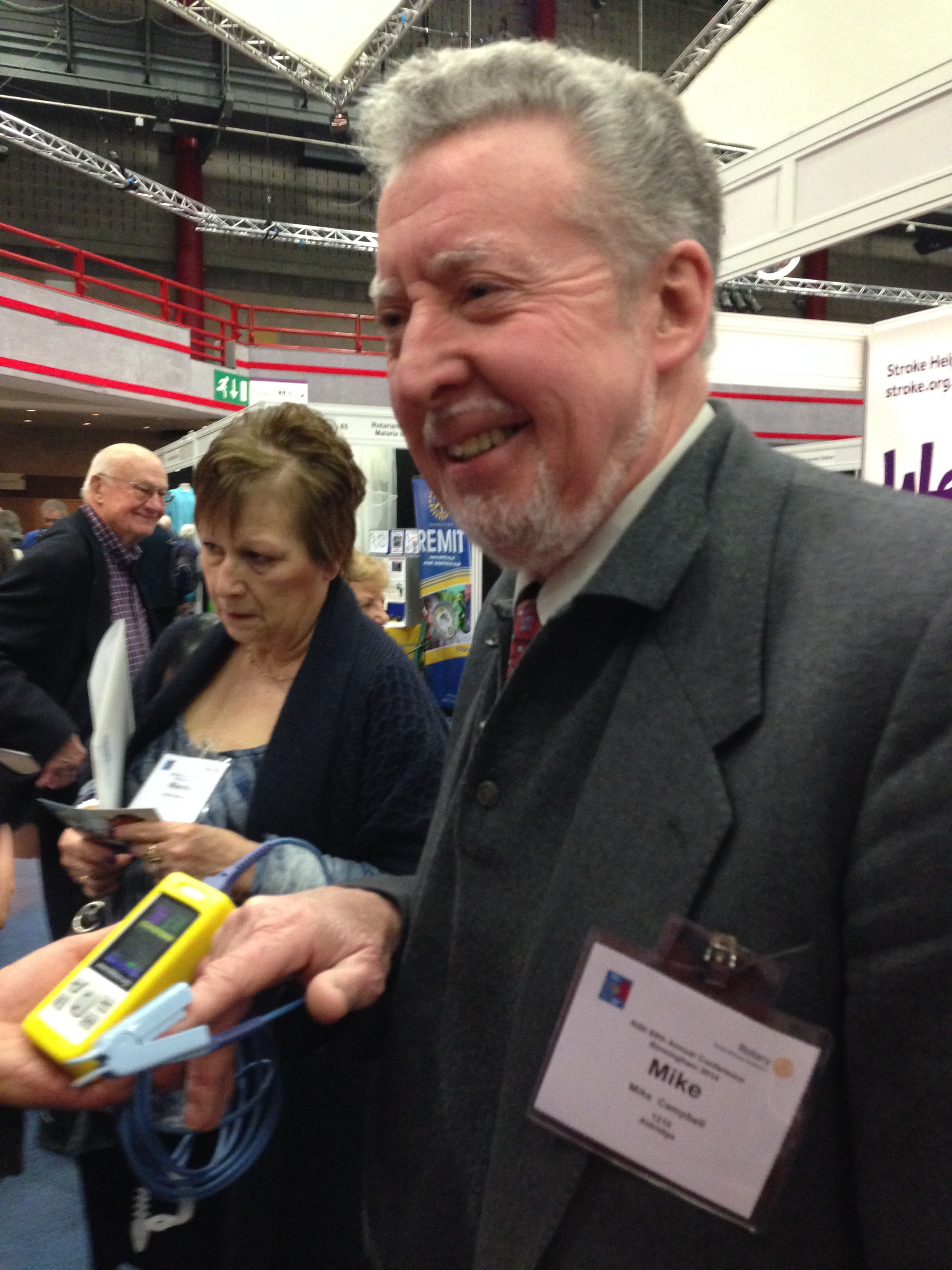 …that this was "a very life-affirming measurement!" (as Lindsay Bashford poetically put it.)
Soon everyone wanted to know their blood oxygen saturation.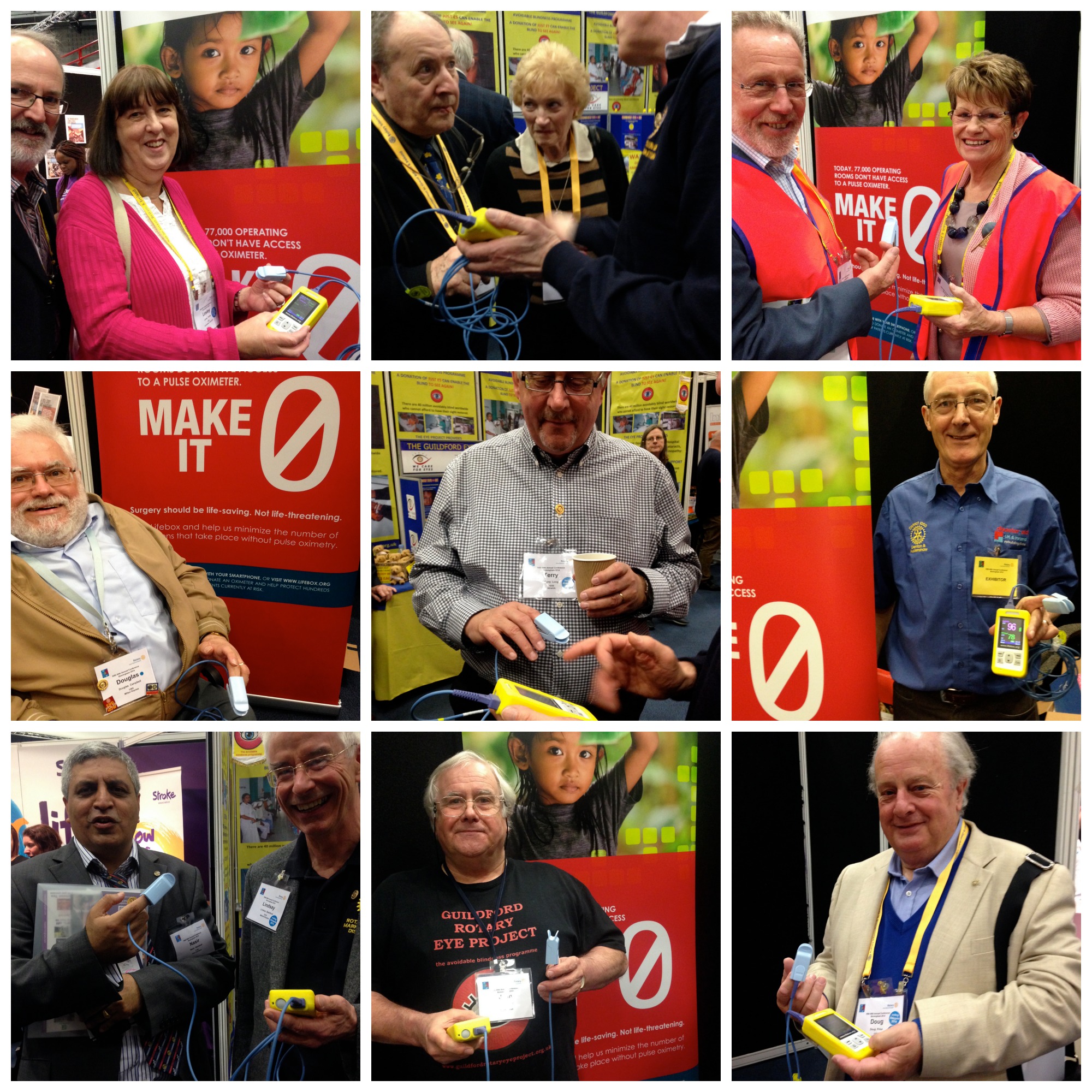 Pulse oximetry isn't just life-affirming – it's life-saving.  A pulse oximeter is the most important piece of monitoring equipment in modern anaesthesia, essential for making it safe (risk of death from anaesthesia in the U.K.: 1 in 200,000) rather than desperately unsafe (risk of death from anaesthesia in West Africa: as high as 1 in 133).
But it's missing from more that 70,000 operating rooms worldwide and so every day, essential operations – emergency Caesarean sections, trauma repair – take place with the surgical team effectively flying blind.
Lifebox distributes this vital equipment to hospitals in need, and in the last three years we've sent out more than 7000 across 90 countries.  But for the first time in history, more people are dying from surgically-treatable conditions than from infectious diseases. Global surgery is in crisis.
We love the Rotary attitude to getting things done – practical and effective.  "We asked what they wanted, needed," explained David Pope, of the Rotary Club of Abindon Vesper's work in Uganda, Kenya and Tanzania – real evidence of Rotary's motto, 'Service above Self'.
In the week after the RIBI conference, two academic papers were published – one showing the dangers of anaesthesia in low-resource countries, and one showing the long-term impact of Lifebox distribution and training.  There has never been a more important time to be practical and effective when it comes to global surgery.
Please get involved – it's life-affirming for everyone!