Lifebox is thrilled to partner with the Medsin Global Surgery National Working Group (NWG) and the Royal Society of Medicine (RSM) Students Section to host, 'Beyond Borders: The Future of Global Surgery!'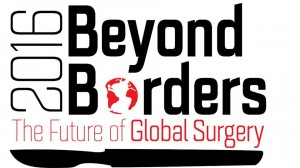 This exciting conference to be held at the RSM on Saturday 9 April aims to introduce the next generation of clinicians to global surgery and is open to medical students and trainees interested in surgery, obstetrics and anaesthesia.
Boasting a programme of international experts in the field of global surgery – including Lifebox Chair Atul Gawande, who will give the opening address via video link, and Andy Leather, Director of King's Centre for Global Health – this event will guide participants on how to work in a global way.
Throughout the day delegates will take part in interactive workshops, listen to key note lectures, network and learn more about our Lifebox Rep Scheme – an opportunity for students to raise awareness and advocate for safer surgery at their universities.
So join us on 9 April! If you've missed online registration, tickets will be available at the RSM on the day.
For programme details click here and for more updates follow the hashtag #BeyondBorders on Twitter and like the conference Facebook page.