When we first heard about the Boston Lifebox Challenge earlier this year, we knew better than to get caught in the crossfire!  We watched as ideas, enthusiasm and events ricocheted across the city, and are thrilled to duck and share, with our thanks, the below article  straight from the website of one of the challengers:
"When BIDMC Anesthesiology Residents heard a presentation about how the lack of a simple monitoring device was leading to patient deaths in third world countries, they were inspired to end this problem.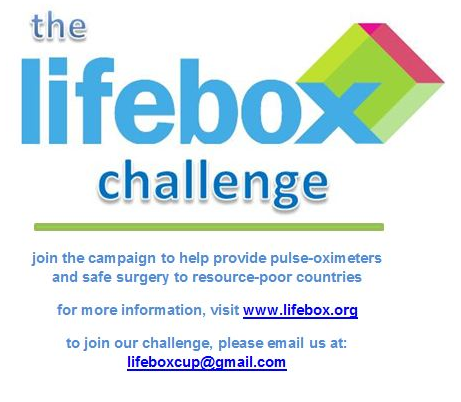 After hearing Alexander Hannenberg, MD, Associate Chair of Anesthesiology at Newton-Wellesley Hospital, speak about his involvement with Lifebox, the residents rallied to action. Lifebox provides clinical staff in developing countries with pulse oximeters. These devices measure a patient's blood-oxygen level and are considered a standard of care in the United States.  Lack of pulse oximeters in operating rooms and recovery areas in the developing world can lead to unnecessary complications.
"Patients can suffer complications or even die if they are not being monitored by a pulse oximeter," Brian O'Gara, a BIDMC Anesthesia resident said in an interview. "We call this avoidable mortality.  We saw this as an opportunity to save lives and thought it would be a great project."
A friendly competition among Anesthesia Residency programs at Boston hospitals ensued in the winter of 2011 through Spring 2012. BIDMC's residents held bake sales, hosted a breakfast event and organized a charity golf tournament to raise funds. Six months later, they were deemed the winners of the "Lifebox Challenge" having collected nearly $6,000. But O'Gara knows the real winners are the patients who will benefit from ORs stocked with pulse oximeters.
"I worked in Ecuador and Tanzania in medical school and I know what the needs can be," O'Gara says. "I am grateful for the support from our department leadership because they gave us the time and financial support to make this project a success."  Resident leadership for the Lifebox Challenge came from Drs. Ann Hau, Neesann Marietta, and Brian O'Gara.  Important contributors and volunteers included Drs. Pete Panzica, Yunping Li and Kristen Telischak as well as CRNA Arpana Bachireddy.
O'Gara says other departments also supported the cause including the PACU, OB, and Perioperative Nursing Staff. Even though the Lifebox Challenge has concluded the effort to support safer surgery worldwide continues on, as O'Gara says they will continue to host events to raise money for Lifebox. For more information about this charity, visit www.lifebox.org."