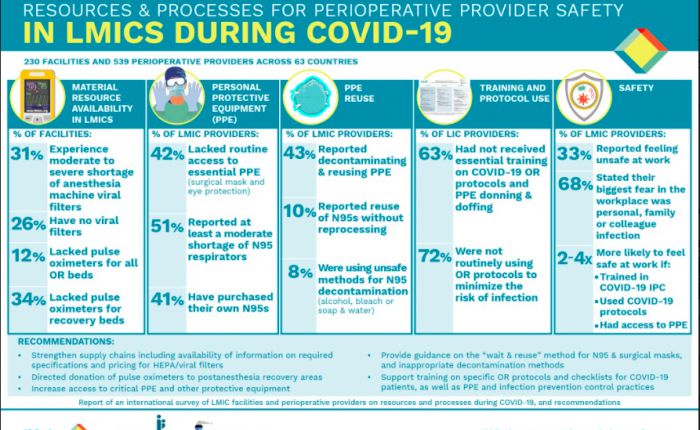 Perioperative Provider Safety During COVID-19: A Global Survey
A global survey has found severe lack of essential personal protective equipment and infection prevention protocols, putting perioperative providers at risk of COVID-19 infection. 
In low- and middle-income countries (LMICs) – where most surgical procedures are essential – perioperative providers have continued to provide essential surgeries and COVID-19 care – despite lacking the basic resources and protocols to keep themselves safe.
The survey – which covered 230 hospitals and 539 perioperative providers across 63 countries – found that in LMICs, 42% of surgical providers lack routine access to essential PPE. More than half of the providers reported a moderate to severe shortage of N95 respirators, with more than 40% purchasing their own when available.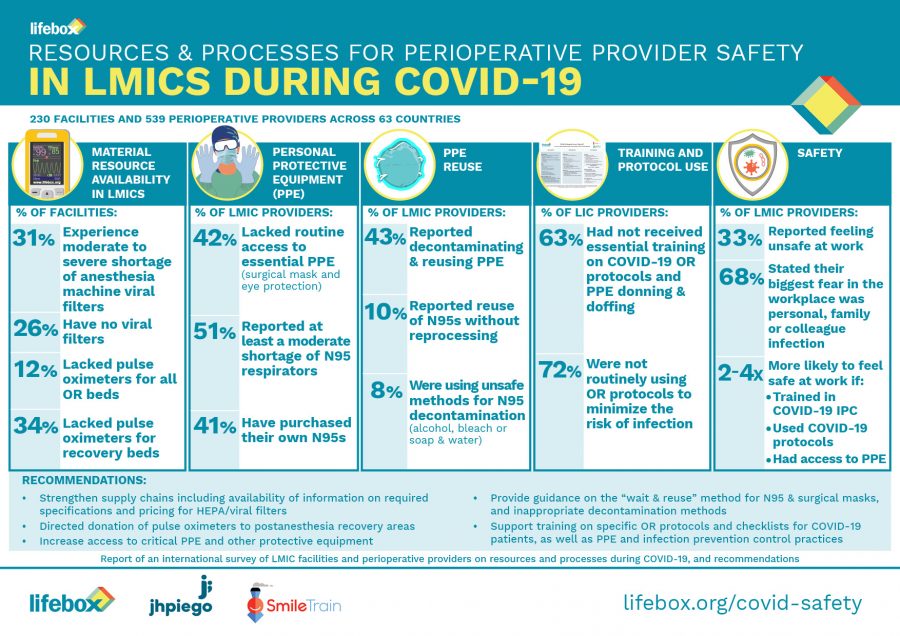 "These findings show the chronic resource and training gaps faced by LMIC healthcare workers as they battle both surgical emergencies and COVID-19 care. Healthcare workers are a precious and finite resource. There needs to be targeted action to improve the safety of frontline workers." Dr. Nichole Starr, Lifebox Senior Fellow, General Surgery Resident at the University of California, San Francisco, and lead author of the study.
The results of the survey have been summarized in the "Perioperative COVID-19 Report: Resources & Safety" alongside recommendations to improve the safety for perioperative providers during the pandemic.
Thank you to Smile Train and Jhpiego for their collaboration on this survey.
CATCH THE DISCUSSION ON PERIOPERATIVE SAFETY IN COVID-19 REPORT.
Chaired by anesthesiologist, Dr. Zipporah Gathuya, perioperative providers from across the globe shared experiences on their access to resources and safety protocols.
AVAILABLE IN FRENCH.
---
Acknowledgements: Nichole Starr, Nina Capo-Chichi, Jolene Moore, Constance Harrell Shreckengost, Katie Fernandez, Reshma Ambulkar, John E. Varallo, Adesoji O Ademuyiwa, Sophallyda Krouch, Pankaj Singh Rana, JC Allen Ingabire, Thomas G Weiser, Tihitena Negussie Mammo, Faye EvansWe would like to acknowledge Eliana Lillevik, Luciano Barbosa, Daniela Farchi , Laila Woc-Colburn, Gustavo Moraes, Suko Dwi Nugroho, Nguyen Tri Dung, Rong Hu, Priya Desai and Senait Bitew for their contributions to language translations, survey distribution, and data collection.