That was certainly the case for CRNA Janet Dewan, chair of the American Association of Nurse Anesthetists (AANA) Health and Wellness Committee, who first went to work in Niger in 1974.
She recently donated an oximeter through Lifebox and knew exactly who she wanted it to go to: Dr Maman Sani Chaibou, an anaesthetist and head of emergency services at Hôpital National Niamey.
She sent us a report of her experiences in Niger, and told us how a direct donation through Lifebox can be a personally rewarding experience that makes an immediate contribution to surgical safety.
Niger is one of the world's poorest countries, and bears a tremendous health burden with limited resources. Little has changed since I first worked there as an anesthetist in 1974, while the risk of anesthesia in wealthy health systems has decreased dramatically.
It is not unusual to hear of anesthetic deaths, often from situations that might have been detected with modern monitoring.  I knew from my recent volunteer experiences in Niamey that anesthetists, even at the 1000 bed National Hospital, rarely had the benefit of using functional pulse oximetry for their patients. 
In 2008 we introduced the Safe Surgery Checklist in some of the hospital's operating rooms but anesthetists often had to respond "no" when asked if audible pulse oximetry was in place.
It was very gratifying to me to be able to earmark my donation to Lifebox for a pulse oximeter for one of my anesthesia colleagues in Niger.  Within a month of my on-line contribution, Dr. Maman Sani Chaibou was delighted to send me photos of him monitoring an ICU patient with the Lifebox pulse ox device.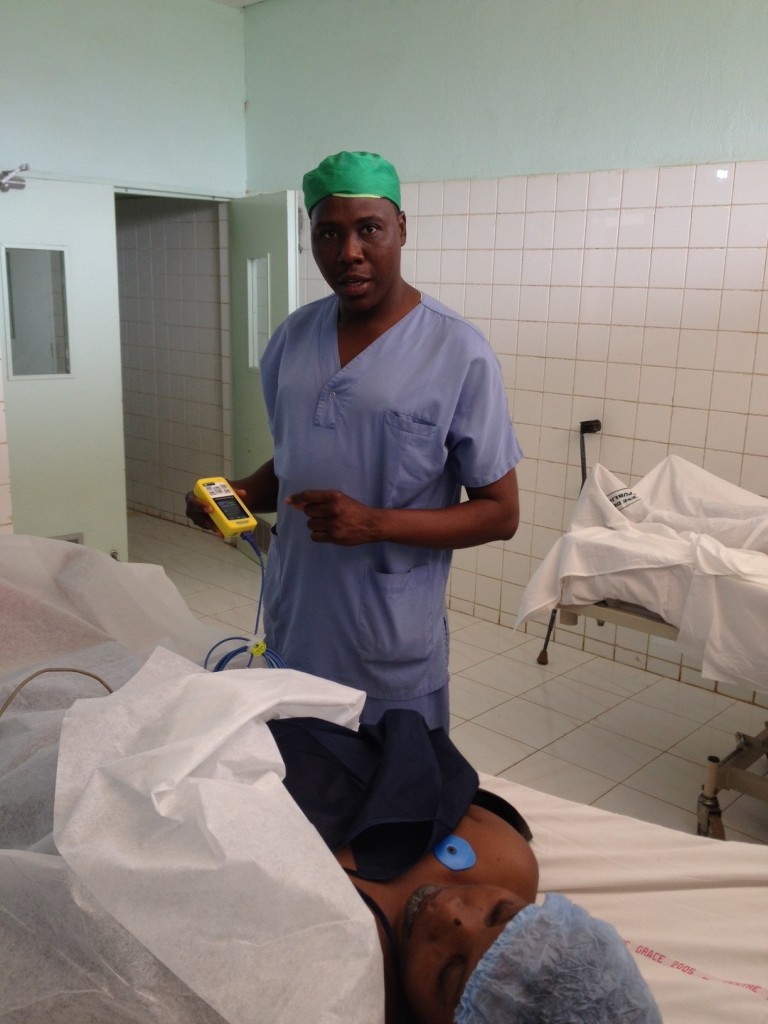 The AANA has adopted Lifebox to benefit from the Annual Walk/Run proceeds and a Lifebox collection box will be at the Health and Wellness booth at the Annual Meeting. 
Thanks to the AANA for designating this charity that connects us to our global anesthesia colleagues while supporting safe surgery by closing the pulse oximetry gap.
Sani sent Janet his best wishes, and the above photo from the operating room, where the pulse oximeter was immediately put to work.
If you would like to donate to a particular colleague, facility or country, please email us at [email protected]. We have a waiting list of colleagues in need, and your contribution today will put an oximeter in their hands next week.