Lifebox receives $500,000 GE Foundation grant for ground-breaking Surgical Infection Prevention Initiative.
In 2010 we launched our pulse oximetry programme, delivering environment-appropriate equipment and training to ORs worldwide – and safeguarding more than 10 million lives
Today we are thrilled to announce our next target in the fight to make every operating room a safer space for patients and healthcare providers: surgical infection.
Postoperative infections are a major threat to surgical patients. They're a particularly critical issue in low resource settings, where rates are double those reported in high-income countries. Patients suffer, families grieve, and hospital systems are strained beyond capacity. But to date, there has been no best practice strategy for addressing this crisis.

Thanks to generous support fromGE Foundation, this is set to change.
Over the next 18 months, Lifebox will establish a technical workstream aimed at reducing the incidence of surgical infection through simple and scalable interventions. Led by Thomas Weiser, Lifebox trustee and surgeon at Stanford Health Care, we'll develop a set of standards that address the most fundamental and life-saving aspects of safe, clean surgery. From skin decontamination to sterile practice, instrument sterilization to antibiotics, we'll be working with local champions to develop a programme that begins in one hospital and expands to support safer practice across whole country systems.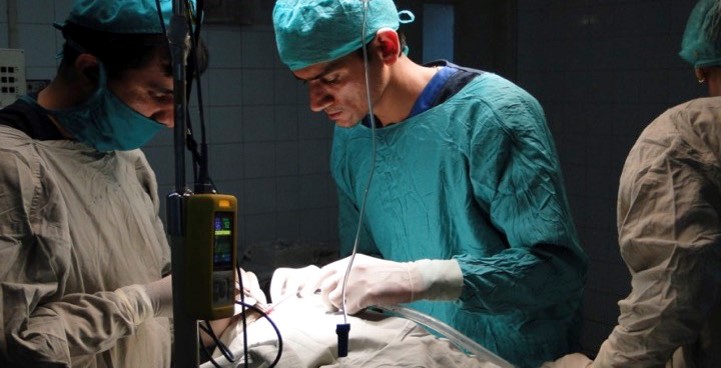 "This project is an extension of what we began during our work with the World Health Organization (WHO) in creating and implementing the Surgical Safety Checklist," explained Dr Weiser. "We intend this to be the next step of a concerted effort to fully deploy the Checklist, broaden the scope of work, and to make perioperative care safer for patients everywhere."
We're delighted to be working with GE Foundation, an organisation committed to improving surgery in low-resource settings. Earlier this year both GE Foundation and Lifebox participated in the launch of a major new Commission on safe global surgery published in The Lancet.
The Commission notes that five billion people worldwide do not have access to safe and affordable surgery and anaesthesia when they need it. Access is worst in low- and lower-middle income countries, where as many as nine out of ten people cannot access basic surgical care. The GE Foundation Biomedical Equipment Technician (BMET) training program was highlighted in the Commission as a "best in class" model for sustainable training, and the Lifebox pulse oximetry program was commended as a leader in "encouraging examples of surgical innovations developed for low-resource settings."
"Safe Surgery has long been a neglected area of global health, and universal access to an essential set of surgical procedures would prevent 1.5 million deaths around the world every year," said Dr. David Barash, Executive Director, Global Health Portfolio, and Chief Medical Officer, GE Foundation.
"It's astounding that millions of people are dying from common, easily treated conditions like appendicitis, fractures or obstructed labor because they do not have access to proper surgical care. We are especially pleased to launch this partnership focused on access to safe surgery with Lifebox, given their success implementing the WHO Surgical Safety Checklist, which has been shown to reduce perioperative complications in low resource setting by nearly 60%."

Said Lifebox chief executive Pauline Philip, "Lifebox is led by professionals. We know what it is to strive for safer surgery, and it's unconscionable that patients and colleagues in low-resource settings must risk so much for life-saving treatment. We're thrilled to be working with GE Foundation, an organization that is putting its expertise, its resources and its global reputation behind safer surgery. Together we're committed to changing the devastating status quo."
For more information, click here.