Study Shows Urgent Need to Focus on Postoperative Care
A landmark study by GlobalSurg, published in the Lancet, has highlighted the need to focus on post-operative care -with surgical
The researchers followed 15,958 cancer patients from 428 hospitals in 82 countries. Even though rates of complications were similar in patients across all income groups, surgical patients in low/lower middle-income countries were six times more likely to die within 30 days of a major complication. Surgical patients in upper middle-countries suffering complications were almost four times as likely to die as those in high-income countries.
"The implication of these results is that LMIC hospitals may lack the necessary resources to rescue patients from an avoidable death after suffering complications from surgery. Urgent investment in LMIC health system strengthening is needed in order to make surgery more equitable globally." Professor Kathryn Chu, Director, Centre for Global Surgery and Professor of Global Surgery, Stellenbosch University, South Africa.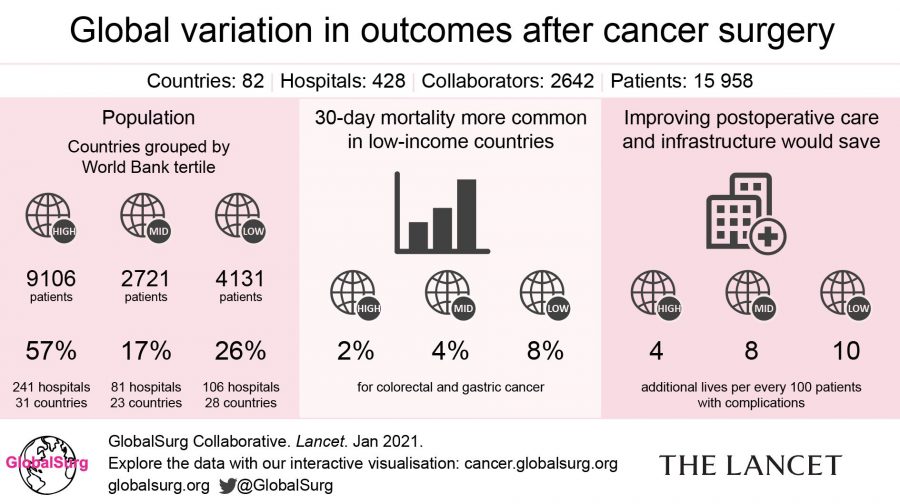 An assessment of hospital facilities and practices revealed that hospitals in LMICs were less likely to have post-operative care infrastructure such as designated post-operative recovery areas, trained staff, and available critical care facilities. These deficits were associated with 7 to 10 more deaths per 100 major complications in low/lower middle-income countries and 5 to 8 more deaths per 100 major complications in upper middle-income countries.
"The entire surgical and anesthetic ecosystem is essential for perioperative care and safety. The lack of postoperative care resources and routines are yet another challenge for global surgery. This study drives home the fact that if we want to see a reduction in surgical mortality, there has to be a focus on strengthening surgical systems as a whole." Dr. Thomas Weiser, Consulting Medical Office, Lifebox.
Whilst patients in LMICs tended to present with more advanced disease the study found that this was not solely responsible for the variation in mortality or postoperative complications. The study was funded by the National Institute of Health Research (NIHR) and conducted by researchers from the GlobalSurg Collaborative and NIHR Global Health Unit on Global Surgery. Lifebox's Consulting Medical Officer, Dr. Thomas Weiser, was a part of the writing group.