If you've seen our excitement on Facebook or watched us struggle to contain our characters on Twitter, you'll know that we've got some big news to share.
The British Medical Journal, one of the most prestigious peer-reviewed medical journals in the U.K., has – well – we'll let them tell you:
"Christmas is coming and this week we launch the BMJ's Christmas appeal," explained editor Fiona Godlee in her recent editorial.
"After last year's success, when BMJ readers gave over £33, 632 to buy 210 pulse oximeters for use in 10 low resource countries, we are supporting the Lifebox Foundation again."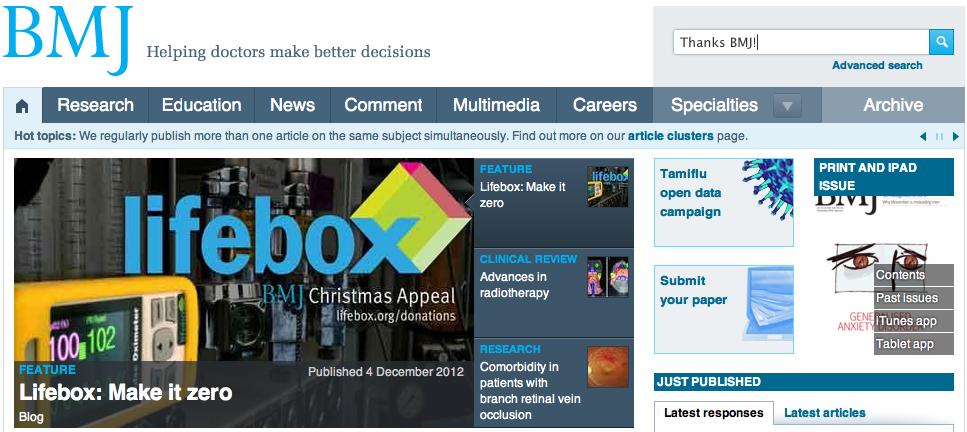 Well!
We're excited to have a second introduction to the BMJ readership, and thrilled at the opportunity to update those readers whose generosity allowed us to do so much more over the last 12 months.
And so we interrupt your regularly scheduled Lifebox broadcast for a foreign holiday of sorts: feature articles, blog posts and Q&As hosted on the BMJ website. We'll introduce you to colleagues worldwide whose work on the frontline of the surgical safety crisis has been supported by BMJ readers, and to the educators, donors and hands down champions we are working with to make surgery safer.
Click on over with us to read more about how Lifebox is working to support the rebuilding of surgical capacity in Rwanda following the genocide, what it feels like to be a house officer at a hospital in Tanzania, and how your support is helping to take away the terrible, answerless questions faced by anaesthesia providers in Ethiopia.
BMJ oximeters were part of a large shipment we sent to Togo last month, and the pictures from the workshop came back just this week. 113 monitors were distributed and 179 anaesthesia providers were trained by the Association National des Techniciens en Anesthesie du Togo (ANTART). Look at what you helped to make happen! And imagine how much more we can do.