Lifebox is an innovator for World Pneumonia Day
When pulse oximeters were first introduced to hospitals in the 1980s, they were expensive, heavy, and scarce. Clinicians used to run, not walk, to the OR every morning – they wanted that life-saving device for their patient.
Today, pulse oximeters are familiar faces across every area of high-resource setting hospitals. They don't just save lives in surgery: they also play a vital role in diagnosing and speeding the treatment of pneumonia, as this video featuring the Lifebox pulse oximeter shows.
But if more than 70,000 ORs worldwide are missing this essential device, imagine how many more rural health centres, healthcare workers and patients are going without.
Why is that a crisis? Because pneuminia kills more than 900,000 children under the age of 5 every year. That's more than all child deaths from malaria, AIDS and measles combined. Wider access to appropriate pulse oximeters and education can change this number.
So today, on World Pneumonia Day, Lifebox is proud to be a part of the Pnemonia Innovations Summit – an initiative of the Pneumonia Innovations Team, a global network of more than 200 organisations and individuals working to speed the development and adoption of new technologies that reduce child pneumonia deaths.
We'll be taking the the stage at the historic Hearst Tower in New York City to present our Lifebox pulse oximeter: an intelligently-designed, environment-appropriate, FDA-comparable machine that is already making surgery safer for more than 10 million patients across 100 countries worldwide.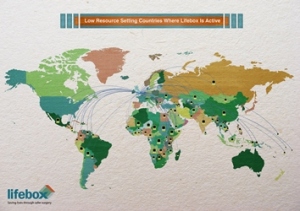 We'll be adding our voices to the innovators and experts calling for change in the way we approach our collective global health.
And we'll be demonstrating that sometimes innovation doesn't mean reinventing the world – it means listening and responding to the people on the frontline who are already experts in the crisis.
Let's work together to end preventable child pneumonia deaths by 2030.