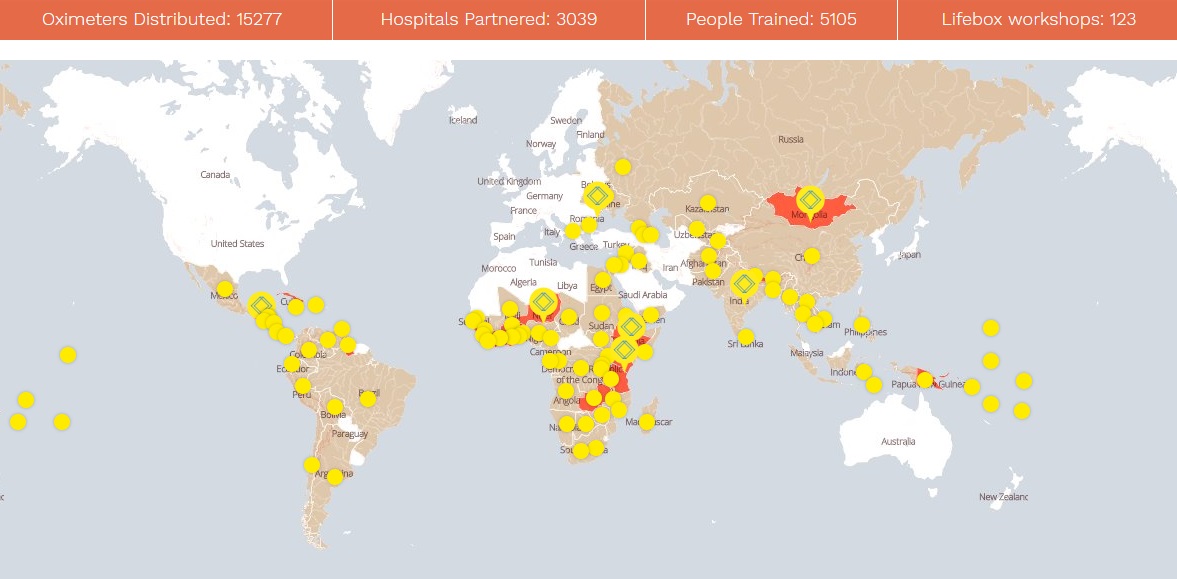 Lifebox News – August Edition
Last month we…
Launched our Global Impact Map – with 15,000 oximeters distributed and more than 100 training workshops delivered across six continents, you can see exactly where Lifebox is making a lifesaving difference.
Caught up with Flora Jobson, a third year Bristol Medical Student and one of our team of volunteers, mapping Lifebox's impact across the globe.
Raised our voices for safer surgery as part of the Mediaplanet 2017 Maternal Health Campaign which featured powerful perspectives from two Lifebox champions.
Introduced Dr Someshwar Patange, one of nearly 70 anaesthesiologists in Nanded district, Maharashtra – in this moving interview about his mission to deliver safe surgical care throughout his district and beyond.
Read all about the screening of The Checklist Effect at Harvard University in Boston, hosted by the Global Surgery Student Alliance (GSSA). This included a panel discussion with Lifebox chair, Atul Gawande and our Global CEO, Kris Torgeson spoke at the event too.
Applauded Dr Raman Alladi, a recently retired anaesthetist who helped spread the word about Lifebox's work during British Science Week.
Celebrated the power of the Checklist – thanks to this blog from Harriet Pittaway, a final year medical student at King's College, London. She shared her reflections on seeing this tool in use in theatre, and what it meant for her to attend the recent Global Surgery Summer School.
Interviewed the Corbis team to learn more about this dynamic student-led group, and this year's Annual Corbis Global Health and Development Conference which included a screening of The Checklist Effect.
Shared a moving story about the impact of Lifebox oximeters at St Gabriel's hospital in Malawi.
In the news:
Measuring perioperative mortality – Lifebox trustees, Drs Walker and Wilson ask some critical questions about the challenges in improving anaesthesia care in poorer parts of the world. (Anesthesiology)
The WFSA Global Anaesthesia Workforce Survey – published in Anesthesia & Analgesia.
Surgery must be a core part of health care – even in the poorest countries (The Guardian).