Le Lifebox: not a luxury, but a must!
We're delighted to share an example of our recent partnership with European NGO Médecins Sans Vacances with all our French-speakers – and grateful to our friends for their support.
"Pendant toutes les missions de Médecins Sans Vacances, nos volontaires de terrain et nos partenaires locaux réalisent ensemble de belles choses. Malheureusement, un manque de matériel adéquat rend encore trop souvent le travail sur place difficile. Un saturomètre fonctionnel est ainsi un instrument essentiel dans le OK, pour le monitoring post opératoire et le service pédiatrique.
Il s'avère cependant qu'en réalité, tous les hôpitaux partenaires ne disposent pas de cet appareil ou que les exemplaires disponibles ne peuvent pas être utilisés ou peu dans le contexte local : pensez par exemple aux températures élevées et aux pannes de courant.
C'est la raison pour laquelle Médecins Sans Vacances a choisi de compléter chaque année le 'matériel itinérant' d'une trentaine de saturomètres durables. En ce qui concerne les critères de sélection, Médecins Sans Vacances a tenu compte du prix d'achat et de la facilité d'emploi et d'entretien.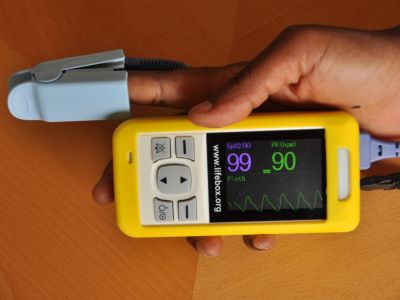 Le choix final s'est porté sur l'oxymètre Lifebox, développé spécialement pour un fonctionnement optimal dans des circonstances difficiles par l'ONG internationale Lifebox Foundation en coopération avec quatre organisations médicales de premier plan – AAGBI, Brigham and Women's Hospital, Harvard T.H. Chan School of Public Health et WFSA.
Depuis août 2015, l'appareil a été testé par quelques-uns de nos volontaires de terrains et évalué positivement.
Nous avons demandé à l'anesthésiste volontaire de terrain M.Karl Hendrickx de nous livrer ses expériences avec l'oxymètre Lifebox.
"Je suis très content de ce petit appareil, il est simple, solide et agréable d'emploi. Vous n'avez pas à vous embêter avec des piles, vous pouvez utiliser l'appareil pendant qu'il se recharge. Travailler sans saturomètre provoque un stress inutile pouvant être évité. Cet appareil n'est donc pas un luxe mais un must !''