It's late on a Monday and l've been scrolling through my Twitter feed for the past hour. I don't normally spend this much time on one Twitter session but it's almost as if I'm reading a book that I just can't put down! The reason for this: it's the night after International Women's Day. March 8th, a date that has become increasingly important on my calendar over the last few years.
For me, this one day in the year is symbolic of a global effort to recognise and celebrate the achievements of women and girls all over the world, and to shine a light on the injustices they continue to face. And since joining Lifebox Foundation as a Communications Assistant in January, I've learned about a new one: unsafe surgery.
For the first time in history you're more likely to be killed by a surgically treatable condition than a communicable disease, but in low resource settings surgery can be a challenge to access and desperately unsafe. And all too often, women bear the brunt.
Social media has become a powerful tool for sharing these experiences. And across great distances, it mobilises us all, encourages us to advocate for change. Sometimes it begins with just one story.
So when my colleague Sarah and I were planning our social media campaign for International Women's Day this year, we really wanted to share the stories of some of the colleagues we work with around the world. Women whose stories, from the forefront of the global crisis in unsafe surgery, show change in action.
I'm still new to the world of a surgery and anaesthesia, but I quickly saw why this year's IWD theme, 'Make it Happen,' is so fitting. Unsafe surgery is a global crisis, and our colleagues around the world aren't waiting to be told to fix it. They're busy taking action.
Take Dr Ronke Desalu who works as a consultant anaesthetist at Lagos University Teaching Hospital. "I work in a 770 bed teaching hospital," she explained, "and along with some colleagues was instrumental in establishing the use of the WHO Surgical safety checklist in my hospital."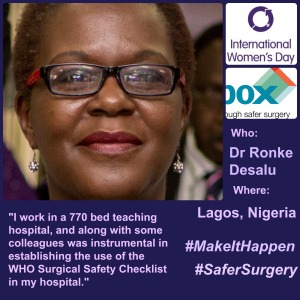 This essential checklist has been proven to reduce surgical complications and mortality by 40 percent.
Or Dr Sandra de Iziquierdo from Guatemala, who told us that this year she aims to "introduce the use of pulse oximeters in five public hospitals with the highest maternal mortality rates."
Distribution of pulse oximeters, training and education is a crucial part our work here at Lifebox – this robust tool means that anaesthesia providers in low-resource settings can confidently monitor their patients' oxygen and blood saturation levels during surgical procedures.
Over the last two weeks our Twitter and Facebook pages have been bursting with action, with ambition, with compassion and with the voices of women at the forefront of safer surgical care in their communities. There is so much work for them to do.
What l have learnt over the last month at Lifebox is that it is not simply a matter of whether people in low-resource settings have access to surgery, but whether they will even survive it. Anaesthesia is up to 1,000 times more dangerous in low-resource countries than in high-recourse ones. Unsafe surgery is a global crisis that not only affects patients and their families but it also has implications for the doctors, health workers and medical teams who attend to them.
As I sat there scrolling, tweet after tweet, the resounding message about gender equality I took away is this – we must do more. But then I thought about that day a few weeks back, when we emailed our colleagues to ask, 'what are you doing right now to make surgery and anaesthesia safer?' The answers came back so suddenly, so powerfully, so engaged. These women are already working to make it happen.
Who are these brilliant individuals, advocating for global surgery at home and on the world stage? Click here to find out!
Happy International Women's Day. Here's to our safe surgery and anaesthesia champions!