Over the last few months, I have been volunteering for Lifebox to map the distribution of their lifesaving piece of equipment – the pulse oximeter. Their new interactive map plots the exact location of each oximeter that Lifebox donates to health facilities around the globe.
I translated distribution sheets, interpreting the raw scrawl of hundreds of healthcare providers' handwritings from around the world – a universal problem in itself! The next step was to find the exact geographic co-ordinates for the health facilities that have received oximeters. It was then a 'simple step' of combining these two elements and uploading the data into the Lifebox Impact Map.
Global Health can be defined simply as the goal of 'achieving pulse ohealth for all'. Surgery is commonly mistaken to be a privilege, when in reality it is a worldwide necessity. One of the wonderful aspects of this work has been seeing the wide range of facilities that receive the Lifebox pulse oximeter and their geographic spread – from large-scale tertiary hospitals in capital cities, to remote health clinics in rural areas. You only need to zoom into Zimbabwe to see what I mean!
Plotting this data clearly demonstrated to me the diversity of settings Lifebox operates within; it really is working to bring safer surgery and anaesthesia to all.
In the last six years, Lifebox has distributed more than 15,000 pulse oximeters to health facilities around the globe – that's whole operating teams, theatres and hospitals better equipped. And hidden behind this number are the millions of patients that will have received essential monitoring during anaesthesia.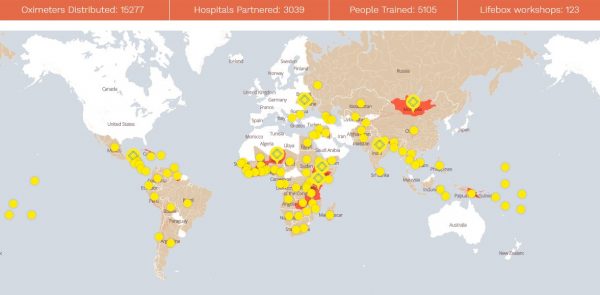 With its worldwide scope, it is clear that Lifebox's model enables the charity to work across the world's different health systems, and all of the cultural differences this entails. Lifebox's versatility is embedded by the training of anaesthesia providers. Education materials are translated into the local language, and local faculty becoming Lifebox Trainers to ensure knowledge sustainability. To date, 121 workshops have trained over 5,000 anaesthesia providers.
As a piece of work, it's been great to see the milestone of 15,000 broken down into individual health facilities. It's always a challenge for NGOs to demonstrate their impact and this map brings transparency to every oximeter that Lifebox sends out. And the work continues, with workshops in Benin and India planned for this month. The mapping goes on!