Maternal health means safer surgery
The 2017 Maternal Health Campaign from Mediaplanet shares powerful perspectives on a devastating truth: that in many parts of the world, having a child remains one of the most dangerous things a woman can do.
Obstetric fistula or haemorrhage, eclampsia or a ruptured uterus: there are so many risks that put dignity, community, livelihood and life at stake. And without access to safe surgical and obstetric care, they will never be eliminated.
But with the right care, at the right moment – well that's a whole different story.
What does it take?
Teamwork. Advocacy. Commitment. Lifebox champions around the world live these words, and we're proud to share their perspectives in a campaign which explores not only the risks of global maternal health, but the achievements.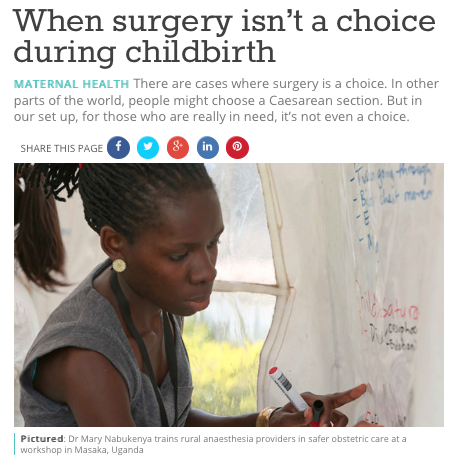 Dr Mary Nabukenya, an anesthetist from Uganda, is one of the faculty leads for Lifebox training and the SAFE Obstetrics course.
"I've had experiences where people are a bit disappointed when they hear you're an anaesthesia provider," she explained. "You tell the person – the surgeon needs someone who is going to fight for the patient, for the baby."
Dr Rediet Shimeles, an anaesthetist (and 37 weeks pregnant when we spoke) addressed risks from a personal perspective – and shared a story of just what can be achieved when a surgical team works together to save a mother's life.
This week we're sharing their stories. From the frontline of the global drive for safer anaesthesia and surgery, to your newspaper (or screen), let it be known: surgery is an essential component of maternal health, and we need your help to make a difference.