A report from Corbis 2017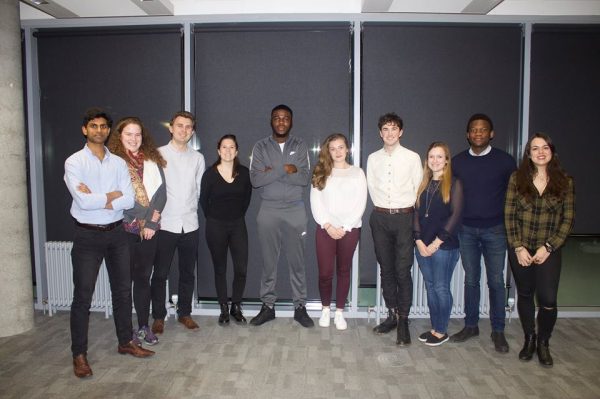 What is Corbis's mission?
Corbis Sussex is a student-faculty multidisciplinary group comprising individuals with global health interests based in Brighton. Our objective is to foster the growth of a cohesive, multi-disciplinary, global health community at the University of Sussex, BSMS and Brighton area, engaging with partners in the wider health and development sector and to contribute towards practical change in the global health and development fields. We also host the Global Health and Development Conference at the University of Sussex on an annual basis, showcasing the leading contemporary thinking, approaches and best practice in tackling global health and development challenges.
How did you get involved with the organisation?
Corbis has its roots in international development and humanitarian medicine, emerging as a special interest group comprised of international development students with a health interest from the University of Sussex, and students working with the international humanitarian charity Médecins Sans Frontières (MSF).
Since the early days of collaboration, efforts have been supported and developed by the Sussex Centre for Global Health Policy, Centre for Cultures of Reproduction, Technologies and Health (CORTH), the Wellcome Trust Centre for Global Health Research at Brighton and Sussex Medical School (BSMS) and the Institute of Development Studies (IDS).
You recently hosted your annual conference which included a screening of Lifebox's documentary, The Checklist Effect and a panel discussion afterwards. What motivated you to host this screening?
This year's conference was entitled 'Blind Spots in the Global Agenda' and provided expert insights and discussion into the myriad of forgotten agendas in global health and development matters. In solidarity with the neglected aspects of health and development, we explored how we could further the conversation on Global Surgery. The case for Global Surgery and achieving equity in standards, accessibility, outcomes and training has emerged in the last decade as a growing field, underpinned by a strikingly sobering and growing evidence-base.
The Saturday feature film screening slot has been an opportunity to shed light on key health and development issues through the medium of storytelling and narration. Our inaugural conference featured 'Every Last Child' a documentary concerning the geo-political topography of the polio eradication efforts in Pakistan. We were delighted to welcome Bafta nominated director and producer Tom Roberts to share his thoughts after the screening.
This year we decided to focus efforts on addressing disparities in global surgical care, and were keen to showcase 'The Checklist Effect' to expand the conversation to new audiences. We were thrilled to host a Q&A with Dr Ed Fitzgerald, Honorary Clinical Advisor to the Lifebox Foundation and Dr Nick Boyd who has been collaborating on research projects with the organisation. The discussion provided a forum for discussing the successes accomplished so far and the many challenges ahead in tackling this particular facet of health inequity.
What was the audience reaction to the film?
The film was very well received, with many delegates citing the screening as a highlight of their discussion on neglected aspects of health and development. For many it seemed to be an eye opening experience, challenging perceptions on traditional approaches to international public health and development. Others were especially fond of the editing and how across a relatively short time frame, the film successfully interweaves a strong narrative, featuring a wide array of case studies and insights from across the globe. The Q&A helped expand on some of the key themes and provided much food for thought.
Why is it important for students to support safer surgery around the world?
Much of the groundwork in global surgery concerns shifting cultures in thinking and using the growing evidence base to tackle the issue from a policy front. It is therefore of great importance that, as the next generation of global health and development practitioners and professionals, students from all health and development backgrounds, can advocate for this change and engage in conversation that serves to widen the scope of what is possible – making the case for global surgery within the wider context of achieving health equity and justice.
If you'd like to host of a screening of The Checklist Effect click here to learn more.