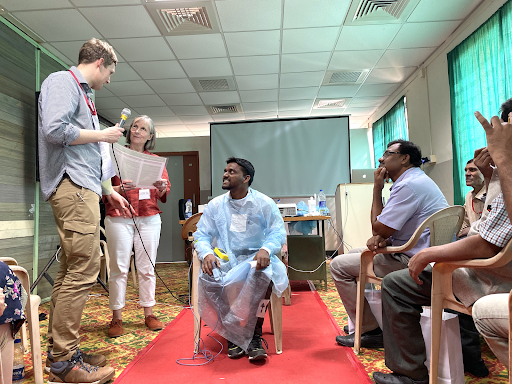 Blog: Dr. Isabeau Walker on SAFE OR workshops in India
Ten years since the launch of the WHO Surgical Safety Checklist, one of the significant benefits has been improved teamwork and communication in the operating room, so what better way to embed this than through multidisciplinary teamwork training?
A few years ago, Lifebox trustee Iain Wilson came up with the idea of 'SAFE OR course,' a short course focused on safety for surgeons, nurses, and anesthesia providers who work together every day in the operating room, but rarely train together. The course materials were developed by practicing clinicians from Lifebox and partners from the Royal College of Surgeons of England (RCS(Eng.)), Association of Anaesthetists of Great Britain and Ireland (AAGBI), World Federation of Societies of Anaesthesiologists (WFSA), the Association for Perioperative Practice (AfPP), and the Royal College of Obstetricians and Gynaecologists (RCOG).
In late November, a team from Lifebox traveled to the SCG Medical College in Nanded, Maharashtra State in India and then to the Tata Memorial Hospital in Mumbai to run the SAFE OR course and train the trainer course.
We received a warm welcome from the local organizers and spent two days in each center thinking about the Checklist and the essential requirements for safe surgery and anesthesia, practicing briefing and debriefing, sharing stories and experiences in our different settings. We used role-play to simulate common emergencies in the OR, helping to translate some of the lessons about teamwork, communication and leadership into practice.
The session on conflict resolution brought out some excellent acting skills, and also reminded us of home – the OR is a high-pressure environment, and conflict is common all over the world, no matter where you work. The course participants practiced techniques to reduce tension and to resolve conflict by encouraging good communication, trust and respect, and constructive solutions.
In total, 73 team members were trained, with 30 newly trained faculty. Commitments to change included measures to reduce surgical site infection and improved use of the checklist. We agreed that the WHO checklist was applicable in any setting and that resources need not be a barrier to effective implementation. More than that, friendships were made and greater understanding of different specialities and different perspectives achieved. Most of all, we were impressed by the great dedication to patient care, even when dealing with complex cases or in difficult circumstances, and the common bond we share in operating room practice, wherever we are in the world.
Enormous thanks to our local hosts, Dr Patange in Nanded and Dr Reshma in Mumbai, to our international faculty — Chloe Rich, Tom Druitt, and Vishvas Shetty; the faculty in Nanded — Dr. Manjusha Shah and nurses Kishor and Vaishnavi, and in Mumbai Drs. Shiva Kumar, Vaibhavi Upadhye, Sweta Salgaonkar, and nurse Sabra Farhan. Thanks also to Lifebox staff member Mansi Tara whose hard work and dedication made the whole trip possible.
Isabeau Walker 
Lifebox Trustee
See a photo essay from the workshops here.