Shining a light in the dark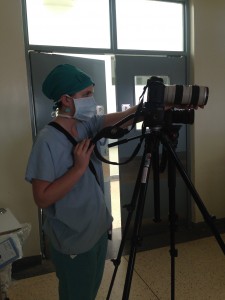 2) she loves football
So it's entirely fitting that we met during the 2014 World Cup Summer, in the online launch of Lifebox Offside: 'the beautiful game' reimagined as competitive global health.
Since then, Lauren's joined Lifebox to film in several countries where we work closely with local professional communities to support safer surgery and anaesthesia.
Recently she took a pulse oximeter to the Hôpital Albert Schweitzer (HAS) in Haiti, where she's shared powerful stories from staff and their patients. But more oximeters are urgently needed – so to celebrate the hospital's 60th anniversary, Lauren is auctioning two tickets for the final of the Copa América – with all funds going to purchase pulse oximeters for the hospital. (* Update below!)
Click here to bid – and watch the video that illustrates her moving account of why the equipment is so desperately needed, below.
"People are surprised when I tell them I work for a hospital in Haiti – I am not a medical professional, but a filmmaker.
This is my seventh stint at Hopital Albert Schweitzer in Deshapelles, my eighth time in Haiti. In 2014 I filmed at a soccer academy with a young woman nicknamed Marta – she played like the Brazilian football star! Marta and I spoke in broken French the entire trip, but one day I caught her reading my small French-English dictionary. She looked completely engrossed, so I asked her to keep it. An hour later, she knocked at my door and presented me with a letter – written in English. In that moment I saw the strength, hope, and ingenuity of the Haitians, and knew this was a place I would return to.
Deshapelles is in the Artibonite Valley – and while it's a long car journey to get there, I always feel light when I arrive into a warm welcome from the hospital staff. I love being in the mountains, bouncing around like popcorn in the back of a Land Crusier with rocks slipping underneath the wheels as we climb up and over mountain past mountain. Just one rule on those car trips: there's always room for one more.
This trip didn't bring me to the mountains, but I did pick up a hitchhiker. Sitting in the Lifebox London office last week, editing a video (and helping them to celebrate their fifth anniversary) I realised – for once I could bring a pulse oximeter with me! I knew HAS needed more monitors, and this was a perfect opportunity to show staff an affordable way to get these essential machines into surgery and on the wards.
I squished the shoebox-sized gift into my carry, swung by New York to collect my camera equipment and arrived jet lagged and car-sweaty into Deshapelles the next evening.
The following afternoon I was heading to the hospital to film an interview with the medical director, when the skies turned grey. Haitian rain comes in quickly, and it never just drizzles: it's sharp and agressive. Walking up the ramp into the back entrance, there was a flash so great I swore blinked white. Then a crack of thunder shook my bones, and I looked to my right to see everyone in the generator room staring at the wall. Sharp sparks and light flared – the generator had been hit by lighting.
I've been in Uganda, where power cuts are expected; hospitals prepare with a back up light in surgery, and a back up generator until the power goes back on line. But in Haiti, dependent on solar and generator power, there's rarely a need for a third back up system -except when lighting strikes.
I stood paralysed, watching two men drag in a small 'put put' generator that certainly wasn't sterile enough to go into the OR, while two more ran by with extension cords. Finally they wheeled in florescent lights rigged to a stand on wheels, but there was no way it was going further than the hallway – and there was a Caesarean section patient on the operating table.
Staff were struggling to stabilise patients, and with no medical training, I didn't know how to help. Without power for the monitor, or even light to watch for change in colour of the blood, the OR team had no way of knowing whether their C-section patient was stable or at risk of hypoxia.
In the dark hospital grounds, a light came on in my head: I ran back to my house and grabbed the Lifebox. Blood gets darker when it carries less oxygen, and a pulse oximeter uses light to 'read' this colour change and sound a warning as soon as a patient's saturation levels start to drop. Just four minutes without sufficient oxygen and the body starts to fail.
I kept that number in mind as I ran from the hospital and back.
I dashed into the hallway, illuminated by the rolling florescent lights. I didn't have time to scrub in, but I quickly gave the oximeter to a nurse, to give to the anaesthetist. What a sound of relief when I heard the familiar blip, blip, blip of the Lifebox, and knew that the mother was going to make it out of recovery to see her child.
Something changed in me that day. Without medical training I was able to help in a small way to ensure someone's life continued – and as a filmmaker, to add another chapter to the life-changing, life-saving, global surgery story."
* Thanks to everyone who took part in the Copa America auction – particularly the ticket winner, whose contribution sent a Lifebox pulse oximeter to HAS!