Tired of fighting a balance between work and home life?
Talk to Félicité Mukeshimana.  She's an anaesthesia technician at a district hospital in Ruhango, a province in the south of Rwanda.
Félicité has two daughters – the first aged five, and the second, Fiona, two-months old and of course still nursing.  Nursing before the morning lecture.  Nursing at lunchtime.  Nursing in the evening during the dinner ceremony to celebrate the end of the first SAFE course last week.
They traveled together more than 100 miles by winding road from home to Rwamagana, Félicité in front and Fiona in back, surveying the world from her tightly bound sling.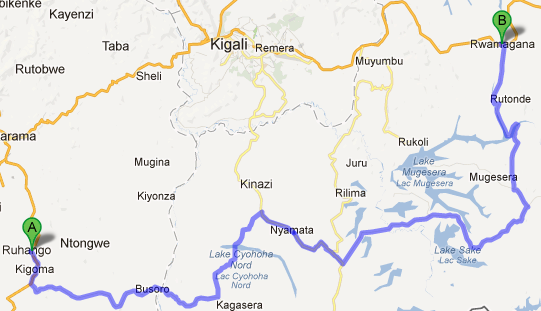 "It's important for us to be together and its important for me to be on the course," Félicité explained, settling in to nurse.
They're not the only traveling duo.  Several mothers and babies have checked in over the last ten days, and several pregnant women too.
Félicité is the only person at her hospital with formal training in delivering anaesthesia.  There are some nurses who have learned how to step in at a pinch, but as the technician, Félicité ultimately bears responsibility for anaesthetizing, resuscitating and relieving pain for every single patient that comes to the door.
There are about 160 anaesthesia technicians in Rwanda, graduates of a three year training programme.  Medical anaesthetists are far fewer, and mainly to be found in the teaching hospitals and urban areas.  Technicians generally go to work in the rural hospitals, where they may be the only trained anaesthesia provider in the district.
They're seeing late-presenting, complex cases, and these in droves – 38,000 emergency c-sections in 2011 and climbing.  Obstetrics is the single biggest caseload, and inevitably presents the bulk of complications.
Continuing education is essential. But education opportunities for anaesthesia technicians in Rwanda come around every – come to think of it, when was the last time you saw a blue moon?
And if a basic training course is rare, an opportunity like the SAFE Course and Lifebox training – four intensive days of practical work and relevant theory, addressing every possible complication, crisis and skill required to deliver safer obstetric anaesthesia, not to mention the distribution of essential equipment and CPD credits – well that's never happened here before.
With all the logistics, time and financial support required, it's not immediately clear when it will happen next.
So Félicité and her colleagues don't have much choice: if they attend the training, their babies are coming too.
"I was a hospital nurse, but I trained as an anaesthesia technician so that I could help the surgeon to keep the patient safe, without pain," Félicité told us, rocking the bundle in her arms. "I wanted to reduce pain."
Her daughter has the most perfect little rosebud baby mouth, and it's mewling softly.  She's been so quite all day, but she's tired, she's hungry, and it's late.
The SAFE course is too good an opportunity to miss – but you know, we know, Félicité knows – good grief, it really isn't easy.