What a difference a day makes
Dr Traudl Elsholz would be forgiven for feeling overwhelmed and overworked. She's one of only three medical anaesthetists in the entire country of Eritrea.
That's in addition to the 37 diploma nurses who have spent between 6 months and 2 years training in anaesthesia to meet the needs of 5 million people.
"As you can see," the Ludwigsburg, Germany native wrote last year, "anaesthesia is in agony in Eritrea and changes have to come rather quickly."
The one positive thing to be said about these terrifying numbers is that, boy, you can really see what difference a small group of people can make.
"First of all I would like to thank you, because mostly there is not any workshop done for anaesthetists for the last three or four years."
"I really appreciate the Checklist, that [taught] me to create a good working atmosphere for the future."
"About 80% of my knowledge is improved from the sessions of pulse oximetry."
Just a peek at the incredible feedback we received last week from participants in a Lifebox workshop that Dr Elsholz ran in Asmara on February 3rd. Alongside her full time responsibilities as head of the department of anaesthesia at the College of Health Sciences in Asmara, she has taken up the Lifebox mission, and you can see that the impact is immediate – and that the yearning for education and training is immense.
35 nurse anaesthetists attended from across the country. One stayed overnight in Asmara; eight stayed two nights, as they had traveled more than six hours to reach the workshop; two traveled more than 10 hours, to learn about pulse oximetry and the WHO Surgical Safety Checklist.
They left full-headed and full-handed – Lifebox donated 78 pulse oximeters to the Eritrea Ministry of Health, and Dr Elsholz distributed them to ensure that all operating theatres would have access to a device.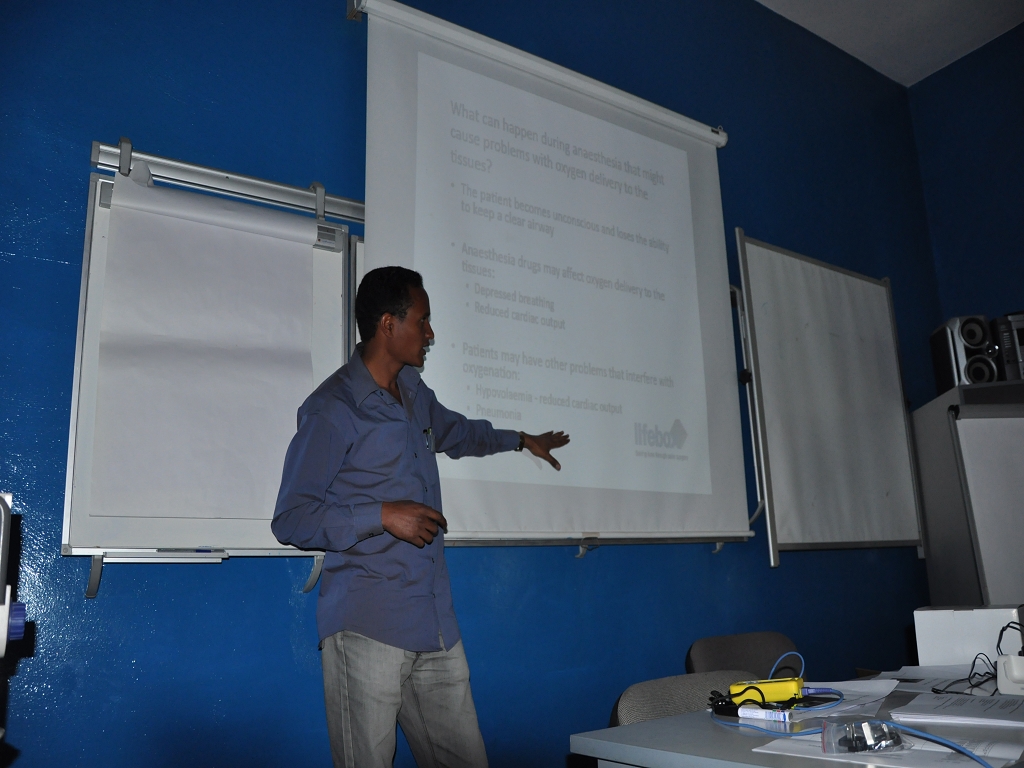 A multiple-choice quiz given before and after the workshop showed that training had an instant effect: comparing pre-and post-workshop results was like comparing the football scores of matches played in the dark, and then played again in the light. Goal!
Of course sustainable change needs reinforcement, and we'll be following up with Dr Elsholz and the participants in the next few months to make sure that their oximeters are working, and that the training has stuck.
And Dr Elsholz will continue her indomitable work, developing basic nationwide standards of anaesthesia, and securing education opportunities for her colleagues.
"If you are interested, you might some day visit Eritrea to see [for] yourself," she wrote warmly. But "if ever you come, be prepared for some CME [continuing medical education] courses for the anaesthetists and some nice lectures for our students."