For the third year running, Lifebox ran to sign up and attend the Rotary International in Great Britain & Ireland Conference – now in its 90th year, dignified and dedicated as ever!
More than 1,500 Rotarians from across the country gathered in sunny Belfast at the Waterfront Conference Centre, a grand venue with its toes on the edge of the beautiful River Lagan. They came for a weekend of talks, presentations, voting – and of course to support worthy causes both in the UK and around the world.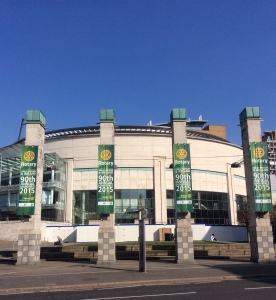 We were thrilled to share our safer surgery story, and to stand amongst a number of great organisations, including our good friends Mercy Ships, who we've recently worked with in Madagascar.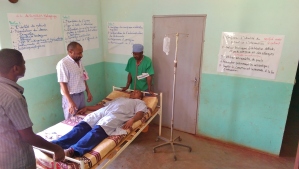 There are two important things we've learnt about Rotarians over the last few years: firstly, they're a network of enthusiast, caring individuals with a passion to support communities around the world. From providing humanitarian assistance to fundraising for local hospices, Rotary clubs and members engage with a diverse range of community issues.
Secondly, Rotarians appreciate practical initiatives – and we are not too humble to admit that the Lifebox pulse oximeter was a crowd pleaser at this year's conference! Rotarians beelined to our stand to get their blood oxygen saturation checked, lured by the bright yellow box in middle of the table.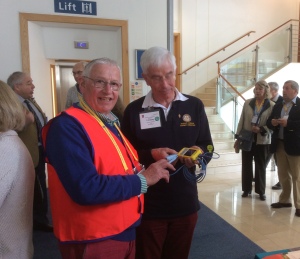 Most had a number of questions about our work, summed up in typical Irish style: What's the craic? (No translation necessary for the initiated and quick clarification for the rest of you!)
Our response: safer surgery of course.
As word spread about the pulse oximeter, thanks to the help of Lifebox champions/dedicated Rotarians/proud parents Lindsay and Barbara Bashford, more and more people visited our stand to learn how this vital piece of equipment is saving lives.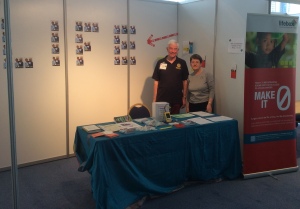 Since 2011, Lifebox has distributed nearly 9000 pulse oximeters to hospitals in 90 countries – working with anaesthetists, surgeons and healthcare professionals across low and high resource settings to ensure that more communities have access to safer surgery.
Thanks to Rotarians' generous support, more pulse oximeters are now whizzing across the globe to hospitals where they are desperately needed. We are closing the pulse oximetry gap slowly but surely, and we won't stop until every operating theatre in a low-resource setting has this essential monitoring tool, the training to use it appropriately, and the safety systems in place that keep patients safe.
We had a wonderful time in Belfast meeting all the Rotarians who are helping us to make safe surgery happen, finding new Rotary friends and learning about the diverse range of projects they support. We hope they enjoyed meeting us too.
Here's to an even sunnier conference – and a bigger beach – in Bournemouth next year!