From western India, to the east. Next on the itinerary was the north-eastern state of Bihar. As the traffic of the state's capital – Patna – gave way to dirt roads and palm-studded countryside, the rugged beauty of Bihar was breathtaking.
But eighty-nine percent of Bihar's 104 million people live in rural areas, and health statistics speak to the brutal risks they face. One of India's poorest states, Bihar has some of the highest maternal, neonatal and infant mortality rates in the country. Maternal and child health is directly linked to safe surgical and anaesthetic provision.
I spent two days with an anaesthesia mentor in Bihar, visiting two District Hospitals, and the challenges in providing safe surgical care became rapidly apparent – a lack of anaesthetists, equipment, and safety procedures being just some of the barriers. My visit to one of Bihar's busiest hospitals in terms of number of C-sections performed was a clear example of this. Despite performing hundreds of C-sections a month, there was no anaesthetist working at that hospital.
It was in Bihar that I saw my first C-section, and first operation where the power failed. Just as the baby was about to be delivered, the power cut. The operating team was plunged into darkness. Moments later, the tiny form of the newborn baby was lit up – by an attendant's mobile phone light.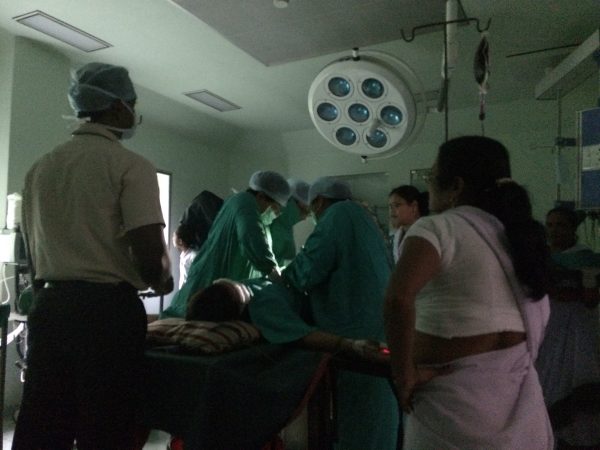 Surgical lighting is a massive safety issue across all the low-resource settings in which Lifebox is operational. Another Indian anaesthetist spoke of how, during the rainy season, their team plan their surgeries according to the weather forecast, so unreliable is the power supply. Even hospitals with generators are not immune, since much of the surgical equipment requires more power than is provided by a back-up generator.
But back to Bihar and the C-section. Shortly after delivery, the pace in the operating room changed. The mother's oxygen saturation levels were dropping – an allergic reaction to the blood she was being given. As the anaesthetist worked to stabilise her, I was sent running back to the hotel. The operating staff knew that I had a pulse oximeter in my suitcase and they wanted the ward staff to continue to monitor the mother once she'd left the operating room.
Across India, patients tend to be taken from the operating room straight to the ward, where it's up to families to keep an eye on their loved-ones and find a nurse if they think they're in need. The first 24 hours after an operation are just as critical as the operation itself, but very few facilities are equipped with pulse oximeters for use in post-operative monitoring. If I hadn't had an oximeter in my suitcase, the staff wouldn't have known if the mother was recovering or her body was being starved of oxygen – a stark reminder of the reality of surgery in rural India.
Providing oximeters for use in post-operative care is a key part of Lifebox's work across every one of our projects in India.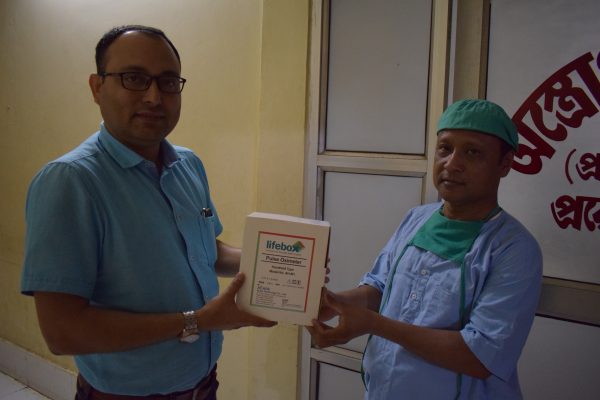 Full Circle
Lastly, I headed to where our work in India began, to the eastern state of Assam – home to the finest tea and India's one-horned rhino. I landed in Dibrugarh to be met by Dr Surajit Giri, our local Lifebox Champion. We'd been communicating via email and WhatsApp for nearly a year, so meeting in person felt like a milestone in itself. It was Surajit who organised the first ever Lifebox workshop in India, and his Health Centre received the first pulse oximeter as part of our Stavros Niarchos Foundation grant.
With his mantra 'safe anaesthesia, safe surgery, safe patient' Surajit is the advocate every patient deserves, and his interview is a compelling read.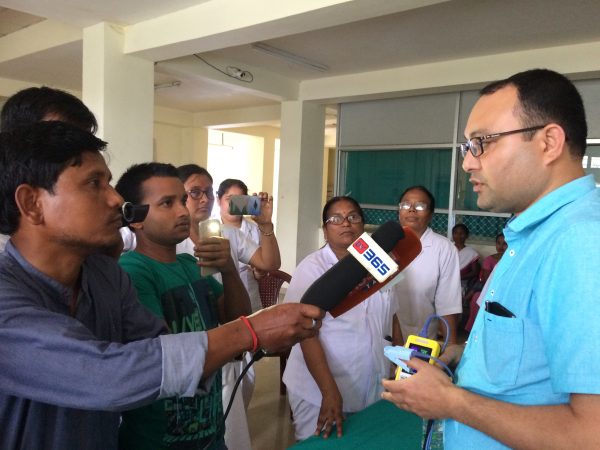 With tea plantations stretching out on either side of the road, we set off to follow-up with facilities that received oximeters as part of last year's workshop. Driving in Assam, one quickly learns that cows are the kings. They lie across the road completely unfazed by the hooting traffic that swerves around them.
As with other rural areas in India, Assam suffers from a chronic shortage of anaesthetists. One anaesthetist I met referred to working in her hospital as 'working at the end of the earth.' Government anaesthetists are all too often underpaid and under-resourced, with no incentive to work in rural hospitals. Many move into private facilities in urban areas where they can earn at least four times as much as in the public sector.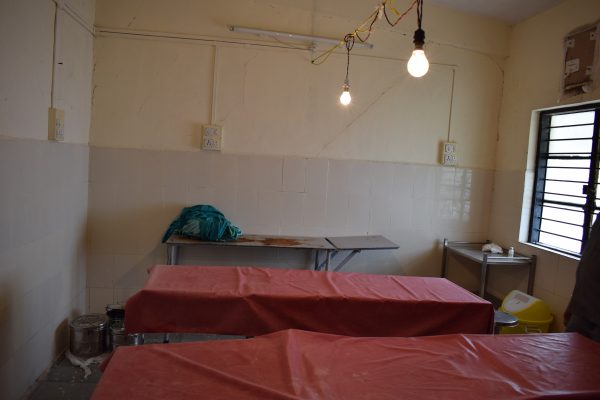 A recent report by the World Federation of Societies of Anaesthesiologists found that India has just 1.27 physician anaesthesia providers per 1,00,000 population. To put this figure into context, this is lower than both Iraq and Myanmar and 20 times lower than many high-income countries.
My time in Assam passed with another two days on the road, visiting the diverse range of health facilities that have received Lifebox pulse oximeters – from Assam's Medical College to remote Community Health Centres. Entirely due to Surajit's pure grit, every facility I visited was fully engaged in Lifebox's work. Listening to how this small device has transformed their practice was a highlight of my trip.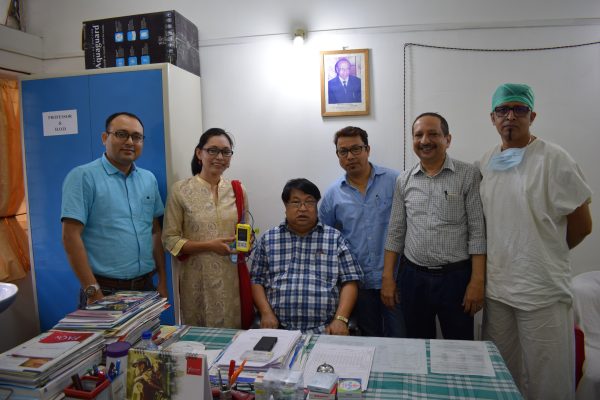 "Before, we had to keep patients in the operating theatre if there were difficulties. Now we have security."
"Lifebox has supplied so many pulse oximeters to the rural areas. That's what's important. They'll be saving so many lives."
"It's very useful kit for us. We're finding it very handy. Thank you for providing it for us."
Whilst the scale and diversity of India makes it one of the most challenging settings Lifebox has worked in, it's a programme we're incredibly proud of. It's only possible because of our local partners who spend every day on the frontline, safeguarding patients' lives, and they certainly wouldn't give their scarce time if they didn't believe in the impact we can have together.
Spending two weeks meeting and learning from these extraordinary individuals has been a true honour. I'll finish by using the words of Lifebox Founder and Chair – Atul Gawande – who expresses it far better than I ever could:
"Lifebox is extremely grateful to the Stavros Niarchos Foundation for their generous support, and to all our partners for their commitment to safer surgery and anesthesia. Together we're going to make a lifelong – and life-saving – difference."