"Let me say, She was Holding her Breath"
This is Samuel Akolgo, a nurse anaesthetist at the Sandema District Hospital in the Upper East Region of Ghana.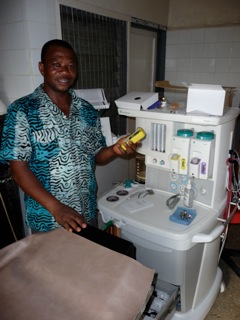 He received one of the Lifebox pulse oximeters donated earlier this year through the partnership between Ghana Health Services (GHS), Afrikids NGO and Southampton University Hospitals Trust.
The oximeters are all used in the operating room and occasionally sent out to the ward, where there is still virtually no monitoring equipment.
When he visited Southampton recently, we got a chance to chat with Dr Akolgo about the difference the pulse oximeter is making to his practice.
"We were doing a manipulation of a fracture – of the upper limb.  While we were operating we noticed that the blood pressure was ok, but the reading on the pulse oximeter was lower than expected.  And we realized that the patient was having some kind of difficulty breathing – let me say she was holding her breath."
"Immediately we realized that we needed to intervene.  But for the pulse oximeter, it would have gone into a more serious situation.
"If you are not careful, you may think all is well."