Thanks to our MAKE IT 0® partners, we're able to send equipment and training far and wide!
Bhutan may be a long way from the office, but colleagues at the Australian Society of Anaesthetists (ASA) are a lot closer – and they're working with us to support safer surgery and anaesthesia across the country.
Check out the most recent report below…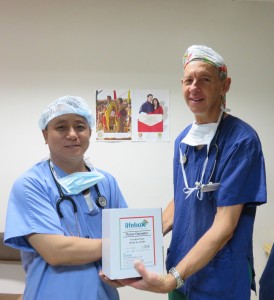 My name is Steve Kinnear and I am an anaesthetist from Australia. I'm working in Thimphu, Bhutan, at the main hospital in the country: the Jigme Dorji Wangchuk National Referral Hospital (JDWNRH).
I am here for a month as a volunteer with Health Volunteers Overseas (HVO), a US-based humanitarian organisation that has been in Bhutan for over a decade.
I worked here in a similar capacity three years ago, and one of the things that was very obvious was the lack of reliable pulse oximeters – particularly in the operating theatres and the recovery ward, and also in some other parts of the hospital.
Sometimes machines were available, but not the paediatric or neonatal probes. Other times, the machines were there but the probe connections would not fit.
This time when I returned, the Australian Society of Anaesthetists (ASA) donated four Lifebox® pulse oximeters, and a range of spare probes, to give to the hospital.
I presented them to the Head of the Anaesthetic Department, Dr Jampel Tshering, on my first day back in the Operating Theatres. He was very pleased to take delivery of them and they have been put into immediate use – particularly for neonates.
These oximeters will make a real and immediate positive impact on patient safety in this hospital.