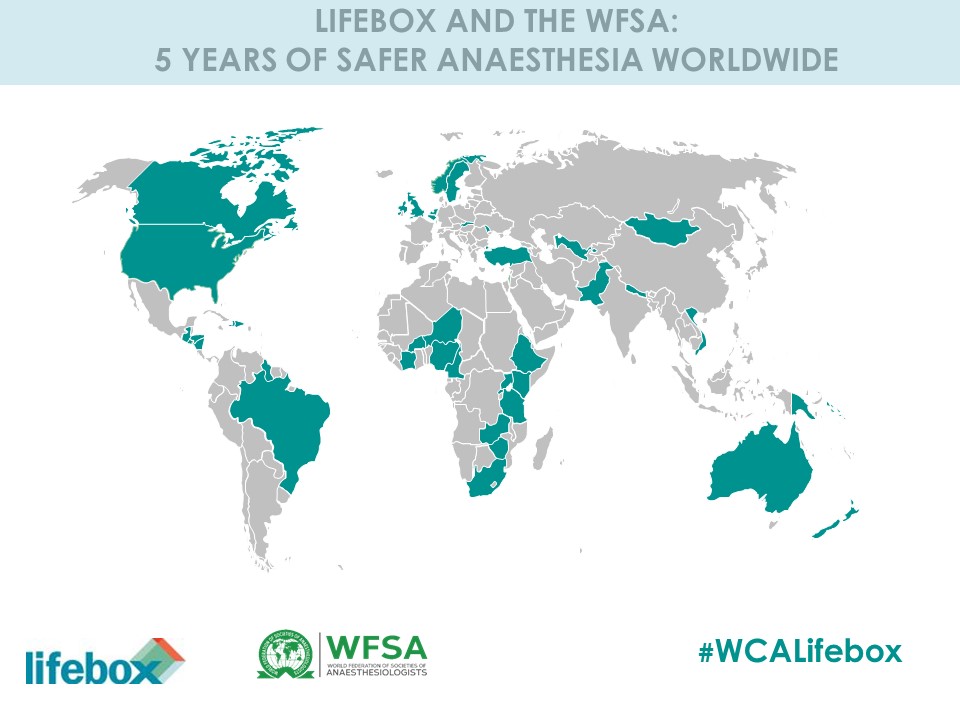 Lifebox News – August edition
Last month we…
Celebrated our global network of partnerships with members of our co-founder the World Federation of Societies Anaesthesiologists (WFSA) and later,
Storified our place in this extraordinary anaesthesia community at the WFSA's World Congress of Anaesthesiologists
Learned about the surgical instrument tray situation in Ethiopia with this stunning video
Considered what an urgent role patients' family members can plan in health outcomes
Noted with enthusiasm the Royal Society of Medicine's new global health programme
Painted the 6th Annual Medical Doctors and Dentists Forum yellow with pulse oximeters for our first major distribution together
Sat down for a powerful interview with safe surgery champion Dr Leonard Kabongo, and with his help,
Completed our first training in Namibia!
Joined Healthcare Information for All on a six-week thematic discussion on Implementation Research
Shared perspectives on what #SaferSurgeryMeans in our World Humanitarian Day Instagram series
Hat-tipped the anaesthetic department at Glasgow Royal Infirmary for their brilliant and dapper fundraising idea
Reflected on several years of incredible partnership in Vietnam
Got inspired by the incredible work of our partners at Mercy Ships
Applauded our friends at Kybele, whose quality improvement work in Ghanato reduce maternal mortality has been published
(Re)-Introduced the world to our amazing Global COO, Kristine Stave
Announced our search for a new role at Lifebox. Could you be our Global CEO?
Congratulated the WFSA on getting charitable registration in the U.K. – and all it means for safer anaesthesia worldwide!
Beeped wildly in approval at the most recent #MyLifesavingOximeter stories
In the news:
Is the UK NGO sector in a funding crisis? (The Guardian)
Measuring the impact of a quality improvement collaboration to decrease maternal mortality in a Ghanaian regional hospital (International Journal of Gynecology and Obstetrics)
Prohibit, constrain, encourage, or purchase: how should we engage with the private health-care sector? (The Lancet)
Antimicrobial Stewardship in South Africa: a fruitful endeavour (The Lancet)
Antimicrobial Stewardship: Managing Antibiotic Resistance (Future Learn)
Meeting the information needs of Prescribers and Users of Medicines (Healthcare Information for All)
Ethical issues in knowledge, perceptions, and exposure to hospital hazards by patient relatives in a tertiary institution in North Western Nigeria (Nigerian Journal of Clinical Practice)
Lucky Iron Fish: a social entrepreneurship organisation implementing a simple health innovation to alleviate iron deficiency and iron deficiency anaemia in Cambodia (Lucky Iron Fish)