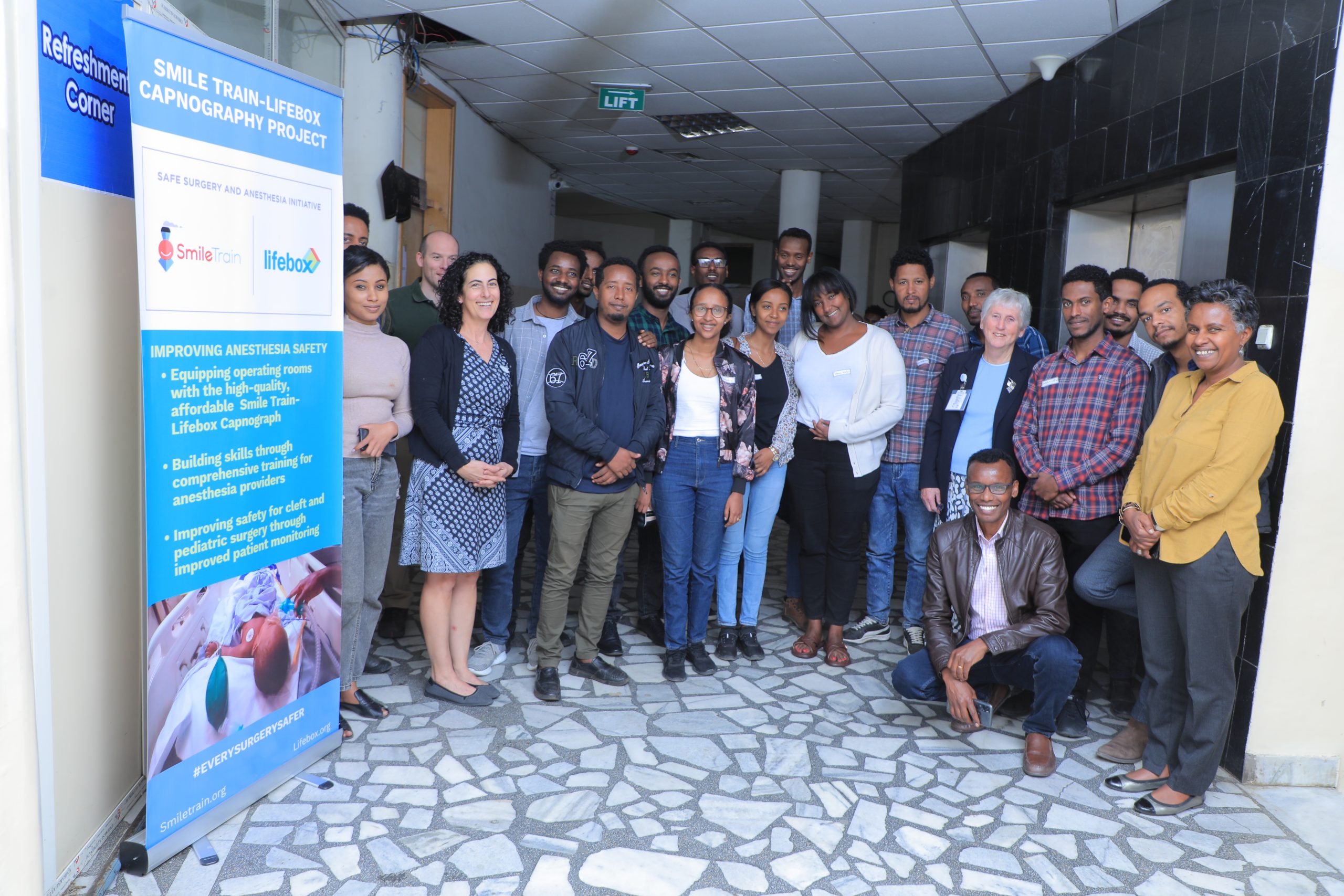 New program to make anesthesia safer for children launches in Ethiopia
Smile Train-Lifebox holds first Workshop with Yekatit 12 Hospital Medical College to improve anesthesia safety for Ethiopian surgical patients
ADDIS ABABA – January 23, 2023 – The world's largest cleft organization, Smile Train, is partnering with the safer surgery global nonprofit, Lifebox, to host the first Smile Train-Lifebox Capnograph workshop to improve anesthesia safety for children and patients with cleft. 
The workshop, taking place January 23–27, 2023 at Yekatit 12 Hospital Medical College, is training over 50 anesthesia providers from three of Smile Train's  partner hospitals in Ethiopia – Yekatit 12 Hospital Medical College, Kadisco General Hospital, and Zenbaba General Hospital – as well as members of the Ethiopian Society of Anesthesiologists in life-saving capnography monitoring. This is the first training of the Smile Train-Lifebox Capnograph Project – a new program to address a critical gap in anesthesia safety.
"Safe surgery and anesthesia is a human right for every patient in need. The Smile Train-Lifebox Capnograph Project we are carrying out in collaboration with Lifebox is a first step towards saving the lives of countless children across Africa. I am enormously proud of the work of Smile Train's partner hospitals as they continually strive for the safest care for patients with clefts," said Sesnie Zemichael, Senior Program Director, East Africa Smile Train.
Capnographs help ensure that the breathing tube is properly placed during surgery. Misplacement of this tube is a leading cause of anesthesia related complications and deaths in low-resource settings. The risk of misplacing the breathing tube is greater in children, so access to capnography is essential for the safe provision of surgery for children.
Despite capnography being universally mandated in anesthesia guidelines in high-income countries, it remains largely unavailable across many low-resource settings. For the 13 operating rooms of the three hospitals participating in the workshop, there are only five available capnographs. 
"Though a gold standard during any surgery, capnography is only available in a few hospitals in Ethiopia. Health professionals familiar with its functions are also limited," said Dr. Ananya Abate, President of the Ethiopian Society of Anesthesiologists. "This workshop builds the knowledge in our health professionals and encourages them to apply it, ultimately improving the safety of our surgical patients."
Alongside developing a comprehensive capnography training package for anesthesia providers, Smile Train and Lifebox are making capnographs accessible with the new Smile Train-Lifebox Capnograph – an affordable, user-friendly, high-quality device with sturdy construction and long battery life. The Smile Train-Lifebox Capnograph meets robust specifications for the monitoring of pediatric patients and use in low-resource settings and underwent laboratory and field testing. 
"This is a fantastic milestone for the Smile Train-Lifebox Safe Surgery and Anesthesia Initiative," said Dr. Tihitena Negussie, pediatric surgeon at Tikur Anbessa Hospital and Clinical Lead of the Smile Train-Lifebox Safe Surgery and Anesthesia Initiative. "Capnography is essential to provide safe care for surgical patients and yet until now this technology has remained inaccessible for many operating rooms in Africa. By making a device that is affordable and accessible, the surgical teams will be able to make every surgery safer for every patient."
This work is part of the Smile Train-Lifebox Safe Surgery and Anesthesia Initiative to strengthen the safety of pediatric anesthesia and surgical care. Smile Train-Lifebox Capnographs will be distributed, alongside training, to anesthesia providers across Africa later this year, after incorporating feedback from the Yekatit 12 training workshop, to address this critical gap in anesthesia and surgical safety. 
---
About the Smile Train-Lifebox Safe Surgery and Anesthesia Initiative:
The Smile Train-Lifebox Safe Surgery and Anesthesia Initiative is a multi-year strategic partnership elevating the quality and safety of cleft and paediatric surgery. Through capacity building, innovations, and research, the Initiative is strengthening surgical systems worldwide. More information here. 
About Smile Train:
Smile Train empowers local medical professionals with training, funding, and resources to provide free cleft surgery and comprehensive cleft care to children globally. We advance a sustainable solution and scalable global health model for cleft treatment, drastically improving children's lives, including their ability to eat, breathe, speak, and ultimately thrive. To learn more about Smile Train's sustainable approach has both an immediate and long-term impact, please visit smiletrain.org.
About Lifebox:
Lifebox is a global nonprofit that saves lives through safer surgery and anaesthesia. Through tools, training, and partnerships, Lifebox addresses the critical gaps in surgical systems to make surgery and anaesthesia safer worldwide. Lifebox's work focuses on three core areas: anaesthesia safety, surgical teamwork, and reducing surgical infection.
Since 2011, Lifebox has worked in 116 countries and trained more than 12,000 healthcare providers to make 181 million surgeries safer. To learn more about Lifebox, visit www.lifebox.org. 
Media Contacts:

Adey Abebe
Lifebox
[email protected]
+251 91 142 5747
Emily Manjeru
Smile Train
+254 724 926 269/ +254 737 621 668