Today's the start of Small Charity Week, showcasing the important work of small charities across the UK – and as a small organisation with an urgent, global portfolio, Lifebox is excited to join in.
We're celebrating our partner in impact: the small but mighty Lifebox pulse oximeter.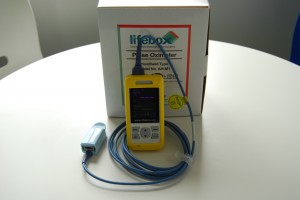 This essential monitoring device makes surgery safer by calculating the amount of oxygen circulating in your blood stream – vital information to know about a patient under anaesthesia, when even a few minutes of oxygen deprivation can have catastrophic results. The oximeter sounds an alarm as soon as it detects the slightest change in oxygen levels, giving operating room teams time to take life-saving action.
However it is missing from more than 70,000 operating rooms around the world.
Over the last five years we've distributed over 12,000 pulse oximeters to 100 countries across Africa, Asia, Eastern Europe and Latin America. This little machine, arriving in a package the size of a child's shoebox, is helping to to make surgery safer for an estimated 10 million people!
Throughout this week we're highlighting the little pieces of this lifesaving device, which combine to give it such a mighty impact. Follow the hashtag #SmallButMighty on Twitter to learn more.