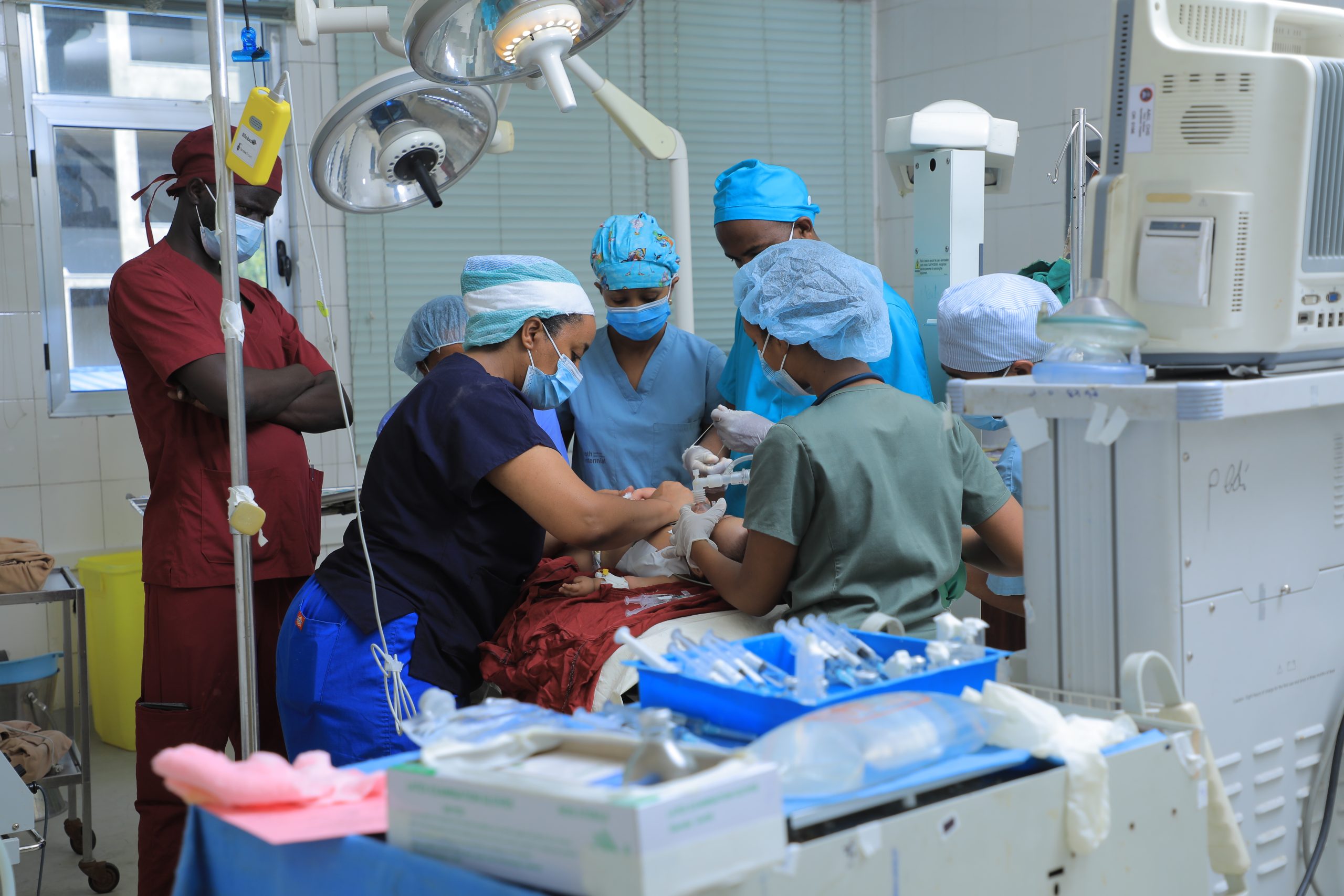 Lifebox 2022 Milestones
A year in review: making surgery and anesthesia safer in 2022
5. Tackling Surgical Infection with Clean Cut 
We partnered with eight new hospitals in five countries to implement our surgical infection reduction program – Clean Cut. Surgical site infections are a devastating and common complication of surgery. Clean Cut reduces rates of infection by strengthening six key infection prevention practices to save lives. 
This year we also launched Clean Cut for Cleft – a new program with Smile Train to improve the safety of cleft surgeries. We launched Clean Cut for Cleft at two Smile Train partner hospitals in Ethiopia and one in Côte d'Ivoire taking our total number of Clean Cut partner hospitals to 25. 
4. Supporting Ukraine's Anesthesia Providers 
As the war in Ukraine took hold, our partners at the Ukrainian Society of Anesthesiologists reached out to share the reality of providing anesthesia care to patients during the war,  sometimes providing anesthesia and ICU care in bunkers rather than operating rooms and intensive care units. This year, Lifebox worked with partners the American Society of Anesthesiologists (ASA) Charitable Foundation, BlueCheck Ukraine, and MedGlobal to provide critical resources – including surgical headlights and 260 pulse oximeters – to support anesthesia care in Ukraine. If you missed the event 'Anesthesia Under Fire' you can watch it here.
3. Improving Maternal Health in Ethiopia
Over six thousand patients participated in our randomized control trial this year to improve the safety of cesarean sections (c-section).
C-sections are the most commonly performed major operation in the world, yet patients are at risk of infection. In Ethiopia, nine percent of patients undergoing c-sections are estimated to develop an infection and 15 percent of maternal deaths in the country are attributed to infections and complications following c-sections.  The study – carried out at nine maternity hospitals in Ethiopia – adapted the Lifebox Clean Cut program for improved maternal health. 
This work is part of the Bill and Melinda Gates Foundation's Grand Challenges Initiative, funded by UBS Optimus Foundation.
2. Launching the Lifebox-Smile Train Pulse Oximeter 
We launched the Lifebox-Smile Train pulse oximeter with our long-standing partner Smile Train to scale up access to pulse oximetry for anesthesia and critical care.
Pulse oximeters are essential for patient monitoring during anesthesia and in intensive care and are the only piece of equipment included on the WHO Surgical Safety Checklist. Despite their low cost, thousands of operating rooms and recovery beds still lack pulse oximetry. To date, 33,000 Lifebox-Smile Train pulse oximeters have been distributed worldwide for safe anesthesia care. 
The 2022 ASA-Lifebox Resident Challenge raised nearly $60,000 to send 233 pulse oximeters to anesthesia providers around the world in need of this critical device. 
Read the Smile Train-Lifebox publication "A Critical Gap: pulse oximetry in low- and middle-income countries" on the impact of pulse oximetry on patient care and remaining gaps in the provision of safe anesthesia. 
1. Celebrating 10 + 1 Years Saving Lives Through Safer Surgery
We marked more than a decade of making surgery and anesthesia safer worldwide through  tools, training, and partnerships. In ten – plus one – years Lifebox has made 181 million safer surgeries, working across 116 countries and training 12,000 healthcare providers. Thank you to every one of you who has been part of the Lifebox story so far.
Thank you to Lifebox supporters across the world. Your donations enable us to react to the most pressing needs facing surgical teams and where we can make the biggest impact.